A tour of Buddhist temples in Truong Sa
Nhan Dan, May 18, 2013
Truong Sa, Vietnam -- Since time immemorial, Vietnamese fishermen have built small shrines and temples on islands in the East Sea to pray for safety and good luck during their seafaring journeys. The following is a photo gallery of recently built and renovated Buddhist temples on the Truong Sa (Spratly) Islands
Song Tu Tay Temple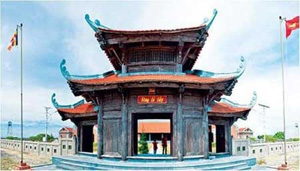 Song Tu Tay Temple, on Song Tu Tay Island, is the largest Buddhist temple in Truong Sa, built according to the traditional architectural layout. Its garden grows a variety of plants indigenous to Truong Sa such as velvet soldierbush (Heliotropium foertherianum) and beach barringtonia (Barringtonia asiatica).
Song Tu Tay Temple, together with the lighthouse and monument to national hero Tran Hung Dao, forms a typical Vietnamese architectural, cultural, spiritual and historical complex in the East Sea.
Sinh Ton Temple
Sinh Ton Temple is located on 500 m2 near a neighbourhood on Sinh Ton Island. Its layout resembles a typical village temple in northern Vietnamese countryside, with a small garden featuring heliotrope and Bodhi trees.
Truong Sa Lon Temple
Truong Sa Lon Temple, on Truong Sa Lon Island, has a wide square campus.
Behind its courtyard and garden is the main hall which houses a statue of Buddha made of white jade. The statue, which was originally situated in the Shwedagon Pagoda in Myanmar, is a gift from the World Buddhist Federation to Prime Minister Nguyen Tan Dung, who later presented it to the temple.
All the Buddhist temples in Truong Sa have their main entrance facing towards Hanoi. They are modelled on traditional Vietnamese architecture and built with saltwater-resistant wood.
The Buddha altar is decorated with highly sophisticated statues made of precious stone and wood. Wooden decoration boards with couplets (or "parallel sentences") are painted red and gold and embossed with Vietnamese texts.
In addition to the Buddha altar, all Truong Sa temples also have another altar dedicated to Vietnamese national martyrs who sacrificed their lives to protect the nation's sovereignty over its sea and islands.
The couplets hung in Buddhist temples in Truong Sa all carry deep meanings that affirm Vietnamese sovereignty over these islands.
For the residents of the Truong Sa Islands and all Vietnamese people, the sea and islands are an integral part of Vietnam that has been protected by divine power since ancient times.
Truong Sa's Buddhist temples not only symbolise of traditional Vietnamese beliefs, they also represent the love of the Vietnamese people for those living in this remote region of the country.