UN Day of Vesak in Vietnam commemorations wrap up
VietnamNet, May 12, 2014
Ninh Binh, Vietnam -- The 2014 UN Day of Vesak successfully wrapped up on Saturday in the northern province of Ninh Binh, with the adoption of a statement highlighting three sustainable development pillars.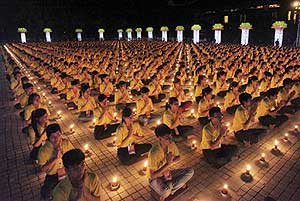 The four-day event brought together nearly 1,500 delegates from 95 countries and territories worldwide, and more than 20,000 domestic and foreign Buddhist monks, nuns and followers.
Addressing the closing ceremony, Deputy Prime Minister Nguyen Xuan Phuc affirmed that the UN Day of Vesak in Viet Nam has become a cultural festival complete with national and international solidarity and a message of peace and love based upon Buddha's thoughts.
He further expressed his wish that, through this event, solidarity among countries will be boosted for more practical actions for peace, cooperation and progress.
Deputy PM Phuc also said he believed that the international community's aspirations, as reflected in the Ninh Binh Statement, would be realised.
According to Most Venerable Thich Duc Thien, Secretary General of the International Committee for Day of Vesak, the statement stresses the need for tireless efforts to achieve millennium development goals (MDGs) and urges world leaders to focus sustainable development on the three pillars of environmental protection, economic development and social equality.
The statement also calls on political leaders to resolve disputes related to sovereignty, sovereign rights, territorial integrity and jurisdiction over exclusive economic zones and continental shelves through negotiations and other peaceful means, in line with international law, including the 1982 UN Convention on the Law of the Sea.
A candle burning ceremony for peace was held at Bai Dinh Pagoda in the province in the evening, with the participation of about 1,500 people.
Ministry of Education in Vietnam wants schools to teach students law, social norms
The Ministry of Education and Training has made it compulsory for teachers and student to sing the national anthem in schools on Mondays as part of a drive to instill civic sense and patriotism in children.
It also said schools have to instill national pride in students, and unions in schools have to teach students the anthem to ensure they sing it correctly.
Kindergartens should play the anthem regularly, it said.
All schools from kindergartens to high schools have to teach students good behavior based on President Ho Chi Minh's five teaching precepts, it said.
School authorities should teach students about their legal and social obigations and counsel them to cultivate awareness of and respect for traffic regulations and culture and express their feelings in an appropriate manner to curb violence in schools, it said.
The Ministry also ordered schools not to change uniforms often to avoid waste.
Hanoi hosts grand requiem for world peace
A grand requiem was held at Hanoi's Thang Long Citadel on May 10 to pray for repose of those who fell victim to the past wars and natural disasters.
At the ceremony, Nguyen Thanh Son, head of the State Committee for Overseas Vietnamese Affairs (COVA), noted that the event was to commemorate fallen Vietnamese soldiers who sacrificed their lives in the struggle for national construction and defence, as well as international friends who lost their lives during lofty missions in Vietnam.
The requiem offered an opportune occasion for Vietnamese people both at home and abroad to pay their debt of gratitude to their ancestors' contributions to the cause of national defence and affirm their determination to preserve and promote Vietnam's cultural values.
Most Venerable Thich Thien Nhon, Standing Vice President of the Vietnam Buddhist Sangha (VBS), called on Vietnamese people, regardless of religion or belief, to unite to build an equitable, democratic and civilized society in the era of integration and development.
The Most Venerable said the religious mass was held as part of UN Day of Vesak 2014, which is taking place in Vietnam's Ninh Binh province.
His Holiness the 12th Gyalwang Drukpa said that Vesak 2014 has great significance as it helps humankind remember the great efforts by the international Buddhist community in building a more peaceful and happier world for all.
Le Van Huan, a Vietnamese expatriate returning from Thailand for the requiem, said the ritual was also a chance for Vietnam to elevate the image of a nation of peace, hospitality, conciliation, solidarity and development.