Vung Tau's Buddhist trail
By Pham Quynh Nhu, Thanh Nien News, February 11, 2015
VUNG TAU, Vietnam -- The best place to begin a Buddhist pilgrimage in Vung Tau is the Phuoc Hai Monastery - some 500 meters from Go Dau Industrial Zone on National Road 51.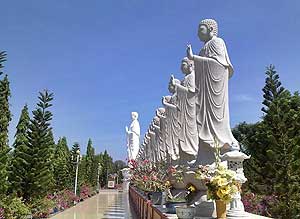 << A row of 48 Amida Buddhas line in Dai Tong Lam's garden. Photo: Pham Quynh Nhu
Thought it's not as imposing as some other pagodas, the monastery offers free vegetarian meals -- of which the bun rieu is particularly tasty.
Instead of being made with dried shrimp and ground field crabs, the vegan take on the noodle soup includes tofu, pineapple, and mushroom. It is served with fresh vegetables and bean sprouts. Simple as it sounds and looks, the dish is so delicious that it has earned the monastery the nickname "bun rieu pagoda."
You can visit the pagoda in the morning and have the famous dish there for breakfast. Feel free to go back for seconds or thirds, and rest assured that the place manages to be clean and tidy in spite of being free.
Roughly eight-nine kilometers down the same road, you'll find the Dai Tong Lam Pagoda.
Dai Tong Lam Pagoda's central chamber. Photo: Pham Quynh Nhu
Built in 1958, the 100-hectare complex consists of pagodas, temples, and a Buddhist school. It has set many records in Vietnam--such as the biggest collection of Buddha statues – more than 10,000 as of 2007, and the largest central chamber.
The last destination in the town is the Thich Ca Phat Dai, a pagoda that covers some six hectares on Nui Lon (Big Mountain). The mountain is located on Tran Phu Street, some three kilometers from the town's center.
Best known for its giant Buddha statues that can stand as wide as 12 meters at their base and stretch 11 meters into the air. Another notable destination is the pagoda's 17-meter tower where the religious relics known as Buddha's 13 pearls are kept.