Mystery over the decomposed Buddhist monk body in Vietnam
VietNamNet Bridge, July 27, 2015
Quang Ngai, Vietnam -- Vietnamese scientists were surprised to discover that the body of Venerable Thich Minh Duc was not decomposed after 26 years of burial.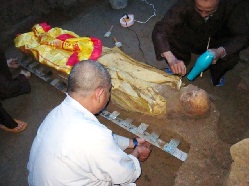 << Mystery over the decomposed Buddhist monk body in Vietnam, venerable thich minh duc, mummy
The body of Venerable Thich Minh Duc did not need any form of preservation. He was naturally buried but after nearly 30 years, the body remained unharmed.
Research on this phenomenon, which was an extraordinary thing, scientists said it must be the result of reaching the peak of the Way of the monk's religion.
The body was unearthed on January 11, 2011 at Long Buu Pagoda in Xuan Vinh Hamlet, Nghia Hanh District of the central province of Quang Ngai.
That day, the pagoda and Buddhist followers organized a ceremony of excavation and relocation of the remains of the late Venerable Thich Minh Duc to a new stupa.
Everyone was surprised seeing that the coffin was rotted but the Venerable body was intact after 26 years buried underground.
The skull was yellow. The metatarsals and cuboids were stuck together and at the original posture when the body was buried 26 years ago.
The skeleton did not collapse although the coffin was broken and pressed by tons of soil and rocks.
Venerable Thich Hanh Khuong, abbot of Long Buu Pagoda, said that when the body was unearthed, people saw three pink dots on the skull.
After the remains were put into a stupa for a week, the three pink dots became three dark dots and one week later they turned to yellow.
Well-known scientist Dr. Nguyen Lan Cuong said this was the rare phenomenon called "full body sariras". This is a mysterious phenomenon of the enlightened Buddhist monks which has not been explained satisfactorily.
Cuong said before the case of Venerable Thich Minh Duc, Vietnam discovered a decomposed bodies of four Zen masters, including Vu Khac Minh, Vu Khac Truong at Dau Pagoda, Hanoi and Nhu Tri and Chuyet Chuyet at a pagoda in Bac Ninh.
These Zen masters were "buried" in a special form. They died while sitting in meditation and became "mummies". The bodies were then put inside statues.
This form is only used in Buddhism and only for enlightened monks.
However, the mummy of Venerable Thich Minh Duc is quite different. If the bodies of other Zen masters were covered with special mixture of materials, the body of Venerable Thich Minh Duc was buried in the ground for several decades.
Scientists did not find out any special physical phenomenon for the soil around the coffin of Venerable Thich Minh Duc so they said this was the result of "enlightenment".
Venerable Thich Ban Quyen of Phuc Long Tu Pagoda, Hai Phong City, said that in the Buddhist perspective, this was the crystallization of a long period of Buddhism practice of Venerable Thich Minh Duc.
"As a rule, after a period of burying, things will atrophy under the ground. Moreover the grave of Venerable Thich Minh Duc was regularly flooded so it is a true miracle when his body was intact. This is called full body sarira and it is a very honorable and valuable for Buddhists," he said.
Venerable Thich Minh Duc, first name as Nguyen Khac Dan, was born in 1901 in the village of Hiep Pho, Hanh Duc commune, Nghia Hanh district, Quang Ngai province.
At the age of 17, he left home to become a Buddhist monk. In 1940, he was appointed abbot of Long Buu Pagoda and Chairman of the Buddhist Sangha of Nghia Hanh District.
Besides practicing Buddhism, he also studied oriental medicine and was a famous herbalist in the region. Before he died, he called his disciples who came for advice and then passed away.