Buddhist museum opens to public
Vietnam News, December, 25 2015
DA NANG, Vietnam -- The first Buddhist Culture Museum in the country was opened yesterday at the city's Quan The Am (Avalokitesvara Bodhisattva) Pagoda with an exhibition of over 500 Buddhist antiques.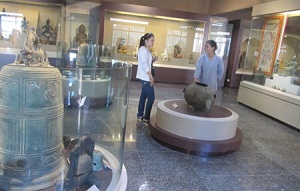 << Place in time: Travellers visit the Buddhist Culture Museum at the city's Quan The Am Pagoda. The museum has over 500 Buddhist antiques, ancient documents, wooden and brass sculptures relating to Buddhism from the 19-20th centuries. — VNS Photos Cong Thanh
The museum, which covers over 500sq.m, also has ancient documents, statues and sculptures relating to Buddhism from the 19-20th centuries on show.
"It's been a great effort by archaeologists, experts and monks at the pagoda to build the first ever Buddhism museum in Viet Nam with an extensive collection of statues and other exhibits," said historian and deputy general secretary of the Viet Nam Scientific History Association, Duong Trung Quoc.
"The museum will enrich the country's cultural heritage. It should be display on the internet and Facebook to connect antiquities collectors, experts and the public," Quoc said.
Superior Buddhist monk Thich Hue Vinh, the abbot of Quan The Am Temple, said the collection of antiquities and Buddhist statues was a long and tough.
"The museum shows our aspiration to establish the first Buddhist cultural space for the public. It also tells the history and development of Buddhism in Viet Nam as well as the tangible and intangible value of antiquities," the abbot said, adding that the exhibits were from the Le and Nguyen dynasties.
"Many antiquities were stolen from pagodas in Quang Nam and other provinces, so the museum will act as a safe place to store the country's treasures," the monk said.
Nguyen Dinh Chien, deputy director of the Viet Nam National History Museum, said the collection was priceless, and researchers were delving deeper into the history of the antiquities.
Deputy director of Da Nang City's Culture, Sports and Tourism department, Tran Quang Thanh, said the city would add the museum to its tourism map, which includes Ngu Hanh Son (Marble Mountain), Non Nuoc Stone Sculpture, the Co Co River, Thuy Son Mountain and the Cham tower complex in Khue Bac District.
He said the city would work with travel agencies to promote the museum and other popular destinations in Ngu Hanh Son District.
The Quan The Am Pagoda, at the foot of Kim Son Mountain, hosts the annual Avalokitesvara Bodhisattva Festival, one of the leading cultural events in the city, on the 19th of the second lunar month.
The museum also displayed a collection of 80 antiques from the seventh to the 19th centuries with items outlining the development of Buddhism in the central region, including statues of Buddha, Bodhisattvas (beings on path to enlightenment) and Arhats (enlightened beings) made from wood, stone and brass.
Last week, an exhibition of Buddhist costumes, architecture, language and heritage opened in Thanh Tri District, Ha Noi.