Buddhist monks offer free traditional treatments
by San Ha, VietNamNet Bridge, Nov 19, 2017
Ho Chi Minh City, Vietnam --- Situated along Nhieu Loc Canal in HCM City's District 1, Van Tho (Longevity) Pagoda has been a trusted place for free traditional cures for sprains, fractures and muscle and bone injuries for more than 30 years.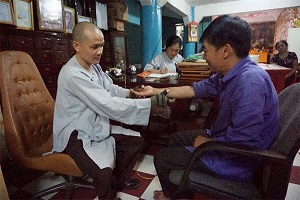 << Ven. Thich Dong Thien, one of herbalists at the Van Tho (Longevity) Pagoda in HCM City's District 1, treats a patient.
Highly skilled and experienced herbalist monks treat nearly 200 patients every day, most of them poor labourers and old people.
The small clinic on one side of the pagoda operates from 2pm to 5pm every day except on Sundays and major Buddhist festivals.
Lai Khac Chung, 37, a printing worker from Tan Binh District, fell down a stair and sprained an ankle, which swelled up rapidly and very painfully.
"Now, after I visited the clinic two times, I can walk normally and my leg is not swollen or painful anymore," he said.
A monk applied some herb on the sprained ankle and bandaged it and asked him to return after three days to get the herbs replaced.
"When I was young, my mother used to take me there to treat twisted ankles. This is the second time I went there to treat a sprain," he said.
Almost all his relatives go to this pagoda if they have a sprain, fracture, arthritis, or back pain, he said.
The monks use secret recipes made by fermenting herbs in wine.
Patients who want to can donate money to the pagoda's charity fund.
The highly effective treatment despite being free means the clinic is famous and even attracts people from other provinces.
The Most Venerable Monk Thich Thanh Son, 88 years old, the head of the pagoda, founded the clinic in 1980.
"At first people did not trust the clinic. But within five or six years it had become famous due to the efficacy of its methods. Now it is too crowded.
"The biggest happiness of my life is to see people recover from illness," he said.
He has handed down his knowledge and experience to other monks in the pagoda, enabling them to run the clinic.
The Most Virtuous Monk Thich Dong Thien, one of the herbalists in charge, started working at the clinic in 2006 following a six-year apprenticeship after graduating in traditional medicine from Pham Ngoc Thach University of Medicine in HCM City.
He and the Most Virtuous Monk Thich Dong Thuan take turns to replace Son, when he is absent.
Patients come from all walks of life, but most of them are poor, Thuan said.
Local residents and people from neighbouring provinces know about the reputation of the clinic through word of mouth, he said.
Many people with arthritis and back pain have switched to traditional medicine after many years of trying treatment at hospitals, he said.
Many patients come with back pain and have herbs applied on their back twice a week, Diu Bach, a volunteer at the pagoda, said.
Besides the monks who are in charge of examination and treatment, there are five or six Buddhist volunteers who perform such tasks as handing out tokens, preparing herbs and bandaging injuries.
"We want to help disadvantaged people with health problems," Bach said.
Nguyen Van Thuan, 72, of Tan Binh District brought his wife Vo Bich Ngoc, 68, who had had back pain for many years, to the pagoda.
He said despite going to several hospitals and taking lots of medicines she did not feel any better.
Their relatives had told them that the clinic was reputed for treating back pain, he added.