UN Day of Vesak in Vietnam
The Star, 14 May 2019
HANOI, Vietnam -- The United Nations (UN) Day of Vesak has kicked off in Vietnam's northern Ha Nam province, with the participation of more than 1,650 international delegates from over 100 countries and regions.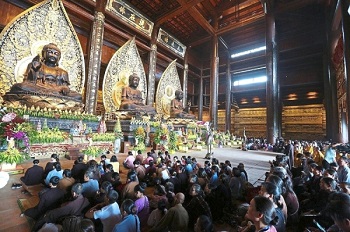 << Auspicious day: People attending a ritual during the United Nations Day of Vesak (left) and others outside (above) the Tam Chuc Pagoda in Ha Nam province, Vietnam. — Xinhua
The opening ceremony of the UN Day of Vesak, or the birth of Buddha, also brought together over 20,000 Vietnamese Buddhist dignitaries, monks, nuns and followers, Vietnam News Agency reported on Sunday.
Phra Brahmapundit, president of the International Council for Day of Vesak, said the three-day event was not only a chance for Buddhist followers worldwide to celebrate, but also aims to serve all people by advocating sustainable development, and addressing global challenges such as environmental pollution, climate change as well as education, among other issues.
Vietnamese Prime Minister Nguyen Xuan Phuc said the UN Day of Vesak means beyond a religious and cultural festival to send the long-lasting message of the Lord Buddha on peace, harmony, tolerance and kindness to all people.
With the theme of "Buddhist Approach to Global Leadership and Shared Responsibilities for Sustai­nable Societies," the Vesak 2019 celebration aims to contribute to realizing the UN's Sustainable Develop­ment Goals.
Its program includes opening and closing ceremonies and five international workshops as well as a domestic one.
The international workshops will raise issues like responsible leadership for sustainable peace, Buddhist approaches to family issues, healthcare, education, morality, responsible consumption and the relationship between Fourth Industrial Revolution and Buddhism.
The results of workshops and discussions will be included in the Ha Nam Declaration.
This is the third time the UN's commemoration of Vesak has been held in Vietnam.
Previously, it took place in Hanoi in 2008 and Ninh Binh province in 2014. — Xinhua