Unified Buddhist Church of Vietnam (UBCV) leader released after monks hunger sit-in
The Buddhist Channel, February 17, 2006
Vietnamese Security Police release Buddhist deputy leader Thich Quang Do after 40 Buddhist monks stage hunger strike in Ho Chi Minh City Railway Station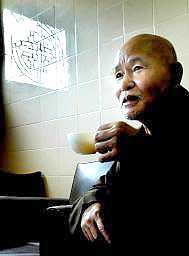 Ho Chi Minh City, Vietnam -- Venerable Thich Quang Do (photo, left), Deputy leader of the outlawed Unified Buddhist Church of Vietnam (UBCV) was released late last night (16th February) after being assaulted by Security Police and detained for more than six hours at the Railway Station in Ho Chi Minh City (Saigon). He was arrested along with a delegation of 11 UBCV monks as they prepared to take the train to Binh Dinh province to visit the detained UBCV Patriarch Thich Huyen Quang. Thich Quang Do, 77, is unhurt but severely shaken. He is currently resting at the Thanh Minh Zen Monastery.
Pressured by the growing crowds, Security Police decided to release Thich Quang Do after several hours of increasing tension, during which 40 UBCV monks staged a sit-in protest and began a hunger strike inside the station. The monks declared that they would not move until Thich Quang Do was released.
In a phone conversation with IBIB Director and UBCV International spokesman Vo Van Ai, Thich Quang Do said the Police had dragged him away from the other UBCV monks and detained him in the Railway Station's "security room". The other monks did not know his whereabouts.
"Four Security Police lifted me bodily and carried me away like a pig", said Thich Quang Do. "They did this in broad day-light, in a public place in front of thousands of people. I am ashamed for my country and my people. Until we have true freedom and democracy, ordinary citizens will continue to be treated like animals in Vietnam".
Thich Quang Do, who suffers from high blood pressure, diabetes and a heart condition, said he fell unconscious after they threw him into the "security room".
When he regained consciousness, he was surrounded by Security Police. After detaining him for more than six hours, they hauled him into a Police van and left the railway station by a side door to avoid being seen by the crowd of Buddhists and monks on hunger strike. The Police forcibly escorted Thich Quang Do back to the Thanh Minh Zen Monastery, where he is under effective house arrest.
Thich Quang Do told Vo Van Ai that he would not renounce his intention to visit UBCV Patriarch Thich Huyen Quang, and would continue attempting to make the trip. "It is part of our traditions and culture to pay our respects to our elders in the Lunar New Year season", he said. "Vietnam is a member of the United Nations and it has a binding commitment to respect fundamental freedoms and rights. It cannot expect to gain eligibility within the international community if it continues to flagrantly violate its citizens' human rights".