Senior monk summoned by Viet Communist party
IBIB, Nov 23, 2004
Ho Chi Minh City, Vietnam -- Venerable Thich Quang Do, prominent dissident and Deputy leader of the banned Unified Buddhist Church of Vietnam (UBCV) has informed the International Buddhist Information Bureau (IBIB) that he received a summons this morning from the Phu Nhuan Ward People?s Committee in Ho Chi Minh City (the local Communist Party authorities) to come for a "working session" at 8.00am tomorrow, Wednesday 24 November 2004. The convocation stated that he is summoned to discuss ?appropriation of state secrets?.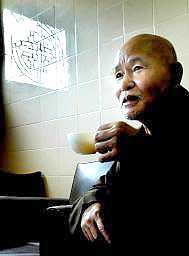 The summons may be connected to a letter sent by Thich Quang Do to the Communist leadership on 25 October 2004 demanding that they lift the verbal ?administrative detention? sentence pronounced by the local authorities against UBCV Patriarch Thich Huyen Quang and himself after the government crackdown on the UBCV in October 2003.
At the time, Vietnamese Foreign Ministry spokesman Le Dung told the international media that the two men were under investigation for ?possessing state secrets?, but in his letter to the Vietnamese leadership, Thich Quang Do said neither of them had been formally charged with this offence, and had never received any information of this investigation over the past year. ?Neither Thich Huyen Quang or I have ever been given the reasons for our detention. We have never been told what crimes we have committed, and we have never been formally sentenced or convicted of any criminal offence. For the past four years, my telephone has been cut off, secret police have keep round-the-clock surveillance on my Monastery, and I have been denied the right to receive any visits?.
In his letter, Thich Quang Do protested that his detention was illegal: ?I was arrested and detained without any justification or due process of law, in violation of the Vietnamese Criminal Procedures Code (Article 10) which stipulates that ?no-one will be held guilty until a court judgment has come into legal force?. Moreover, I have been detained beyond the legal limits stipulated in Article 71 of the Criminal Procedures Code, which states that pre-trial detention for investigation must not exceed six months in less-grave offences, or 12 months in case of grave offences, after which the defendant must either be put on trial or immediately released.?
Under Vietnamese law offences related to state secrets are considered as ?espionage? (Article 80), punishable by life imprisonment or even the death penalty. The IBIB is deeply concerned about the situation of Thich Quang Do, especially in the light of yesterday?s standoff with Police in Trang Bom, Dong Nai province, where he was violently impeded from traveling to Quy Nhon to visit UBCV Patriarch Thich Huyen Quang in hospital. The IBIB calls upon all governments, international human rights organizations and the international media to closely monitor the situation of Thich Quang Do.