Buddhist monks and nuns graduate after 4th course
VNS, July 11, 2006
HA NOI, Vietnam -- The Viet Nam Buddhist Academy yesterday awarded certificates to 194 graduates from 30 municipal and provincial chapters of the Viet Nam Buddhist Sangha Congregation (VBSC) nationwide upon completion of the 4th study course for the 2002-06 period.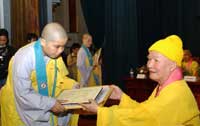 << The most venerable Thich Thanh Tu, Rector of the Viet Nam Buddhist Academy, presents certificates to new graduates. — VNA/VNS Photo Nguyen Dan
Vice President of the VBSC's Executive Council and Rector of the Buddhist Academy, the most venerable Thich Thanh Tu, pointed out in his speech that the university's construction and growth had consolidated and developed in the past 25 years, meeting the increasing demand for educating and training Buddhist monks and nuns.
The university has trained nearly 600 monks and nuns and now is enrolling more than 280 students for the 5th study course from 34 city and provincial VBSC chapters.
The most venerable Thich Thanh Tu expressed his gratitude to the Party and State for supporting the Viet Nam Buddhist Sangha Congregation in general and the academy's training work in particular.
Director of the Government Committee for Religious Affairs Ngo Yen Thi affirmed the strong development of Viet Nam Buddhism education and training. Due to the training, monks and nuns have improved their knowledge and standards, contributing to the congregation's construction.
Through training, Thi said, monks and nuns' activities would contribute to raising Buddhist culture and people's intellectual standards, as well as protecting the country's traditional cultural values.
Thi hoped that the new graduates would use their intelligence and confidence to serve the congregation and focus on the work necessary to build a stable and strong Viet Nam Buddhist Sangha Congregation, while actively taking part in compatriotism emulation movements, building an everlasting and developing country and carrying out the congregation's theme of "Dharma – Nation – Socialism." The congregation has three Buddhist academies, six colleges, 30 Buddhist high schools and hundreds of primary classes for tens of thousand of students. Nearly 200 monks and nuns have studied for master and PhDs degrees in Buddhism overseas.
The congregation plans to open a new buddhist academy in Can Tho Province at the end of this year. The future school, the third Buddhist academy so far in Viet Nam, is reserved for the Khmer Buddhist sect in southern Viet Nam.