Buddhist delegation brings gifts for highland children
VNS, Sept 16, 2006
Ho Chi Minh City, Vietnam -- Disadvantaged Mong and Dao Do ethnic minority children in 10 northern mountainous provinces received gifts and a visit from the Viet Nam Buddhist Sangha delegation earlier this week.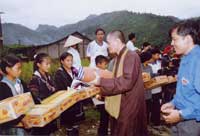 << The Venerable Thich Minh Hien presents gifts to disadvantaged ethnic minority children in northern Lao Cai Province. — VNA/VNS Photo Quang Tam
The delegation, which included monks and nuns, Buddhists and entrepreneurs from HCM City, visited people living near the Hoang Lien Son mountain ranges in Lao Cai Province, where some communities live at an altitude of 2,000m.
The delegation presented each child with a box of instant noodles worth VND100,000. The gifts' total value was VND150 million. Children living in the highlands area were presented with the additional gift of some winter clothes.
The delegation heard that most local ethnic minority people in the area work in the agriculture sector, planting one crop each year on small acreages.
Many in the area are struggling with poverty and hunger, with 80 per cent of households in most communes classified as living in poverty with a monthly income of VND200,000 per household.
In nearby Vinh Phuc Province's Lap Thach District, situated outside the highlands, many children struggle with disabilities. Nguyen Thi Tuyen from Lan Cong Commune said through tears that her family had four children, one of whom had a mental disability.
"My family has sold all its valuable property to treat the child but his disability does not ease up," said Tuyen.
"I don't know what to say, except for expressing my deep gratitude to monks and nuns and Buddhists."
Nguyen Thi Phuong, the owner of an enterprise in HCM City, said her family had four members taking part in the delegation. This visit had a special significance for her.
Phuong said she met children with disabilities in the highlands area, including underprivileged children from Dien Bien Province and disabled children from Vinh Phuc Province.
"We will try to organise more visits in the future," said the Venerable Thich Minh Hien.