Thich Nhat Hanh Returns To Vietnam For War Remembrances
DPA, Feb 21, 2007
Ho Chi Minh City, Vietnam -- World-famous Buddhist monk and author Thich Nhat Hanh has returned to his native Vietnam for a 10-week tour to promote healing 30 years after the end of the Vietnam War, his followers said Wednesday.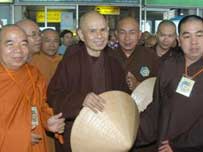 The 80-year-old monk arrived in Ho Chi Minh City with 150 monks and lay worshippers Wednesday for his second visit since 2005.
During his tour, he plans to hold meditation retreats and also three chanting ceremonies in Ho Chi Minh City, Hanoi and Hue to pray for the dead on both sides of the Vietnam War.
However, his visit was criticized by the banned Unified Buddhist Church of Vietnam, whose leaders in Vietnam are under police detention in their pagodas.
A prominent peace activist during the Vietnam War, Hanh was banned from returning from a speaking tour in the US in 1966 by both the US-backed South and communist North Vietnam.
After the war ended in 1975, Hanh became a revered meditation teacher in the West and is a publicly known face of Buddhism second only to the Dalai Lama.
He set up a monastery in southern France and traveled to the US frequently, befriending Martin Luther King Jr, whom he inspired to oppose the Vietnam War.
He has published 80 books and taught tens of thousands his concepts of "engaged Buddhism," which emphasizes meditation, peace and social justice.
Hanh will hold his first public speaking engagement at Vinh Nghiem temple in Ho Chi Minh City on Friday, according to his assistant, Sister Chan Khong.
However, a spokesman for the Unified Buddhist Church of Vietnam said that Hanh was playing into the hands of Vietnam's communist government through his visit.
"I believe Thich Nhat Hanh's trip is manipulated by the Hanoi government to hide its repression of the Unified Buddhist Church and create a false impression of religious freedom in Vietnam," Vo Van Ai, a spokesman for the UBCV in Paris, said in a statement Wednesday.
After the end of the Vietnam War, the communist government folded all the country's Buddhist sects into a state-sponsored church that remains today.