Vietnam police arrest 3 Norwegians on visit to monk
Reuters, March 15, 2007
HANOI, Vietnam -- Three Norwegians were briefly detained by Vietnamese police as they arrived at the monastery of an activist Buddhist monk in Ho Chi Minh City on Thursday, the Norway embassy said.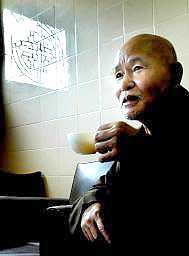 << Thich Quang Do is held under house arrest by Vietnamese authorities
The arrests were not immediately confirmed by authorities in communist-run Vietnam, who last month denied a visa to the chairman of the Rafto Foundation of Norway that awarded the monk, Thich Quang Do, its annual human rights prize in 2006.
"I can confirm three Norwegians were arrested, questioned by police and released," an official at the Norwegian embassy in Hanoi said.
One of the Norwegians was identified as Therese Jebsen of the Bergen-based Rafto Foundation. The others were not identified.
Do, who is under house arrest in the Thanh Minh Zen monastery in Ho Chi Minh City, is deputy head of the outlawed United Buddhist Church of Vietnam (UBCV).
A statement by the Paris-based international spokesman for the UBCV also said three people were arrested.
Vietnam recognises several faiths and religious organisations, but all are supervised by the state. The UBCV refuses to adhere to state supervision.
One-party ruled Vietnam, which is rapidly gaining diplomatic and trade acceptance, has been criticised this month by a number of governments and rights groups for arresting peaceful political activists, accusations the communist state rejects.
The Vietnam Ministry of Foreign Affairs has previously called the Rafto award to the monk "completely inappropriate" because it says he broke Vietnamese law and has been convicted. Do has spent about 25 years in detention.