Top Vietnamese Buddhist Slams Detentions Amid Ongoing Crackdown
RFA, March 16, 2007
BANGKOK, Thailand -- A top dissident Buddhist leader in Vietnam has spoken out against the detention in Ho Chi Minh City of a Norwegian woman who came to present him with a prestigious human rights award, amid signs of a tough new crackdown on dissent.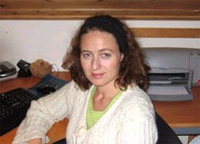 << Therese Jebson. Photo courtesy Rafto Foundation.
Thich Quang Do, deputy leader of the outlawed Unified Buddhist Church of Vietnam (UBCV), said in an interview that Vietnamese security officers intercepted Therese Jebsen of the Oslo-based Rafto Foundation as she arrived at Thanh Minh Zen monastery, where Do lives under virtual house arrest.
"I went into the courtyard to greet her with a bouquet of flowers. But…a group of Security Police burst in," Do told RFA's Vietnamese service.
"One of them was in uniform and the others were plainclothes officers. They intercepted us and ordered Therese Jebsen to come with them to the police station."
"I tried to persuade them that she was a foreign guest who has come a long way to meet me, that is was just a friendly visit… I asked them to show her some hospitality and let me meet with her for 30 minutes, and then I could take her to the police station," he said. "But the police insisted that she come with them immediately."
Three people detained, questioned
"I feel sorry for Therese Jebsen. I feel such pity for her. Also, I feel deeply sad. I am sad and ashamed for my country," Do said.
The Rafto Foundation said in a statement that police had detained Jebsen, along with Vietnamese-born interpreter Kieu Tran and Norwegian television journalist Tom Rune Orset. They were questioned for two hours and released, it said. No comment was immediately available from the Vietnamese authorities.
The foundation chairman, Arne Lynngard, wrote to Vietnamese officials seeking permission to visit in February to present Do with the 2006 Thorolf Rafto Memorial Prize, it said. But his request was denied.
'One of the worst crackdowns'
Do was earlier denied permission to travel to Norway to receive the prize. Four other Rafto prize winners have later been awarded the Nobel Peace Prize.
Do's UBCV has long resisted pressure to join the officially sanctioned Buddhist Church of Vietnam. Do and UBCV leader Thich Huyen Quang have lived under virtual house arrest, under strict surveillance, for years.
On March 9, Human Rights Watch accused Hanoi of "flouting its international commitments on human rights by launching one of the worst crackdowns on peaceful dissidents in 20 years."