Vietnam celebrates Buddha's 2551st birthday
VNS, June 1, 2007
Ha Noi, Vietnam -- A grand meeting to mark the 2551st birthday of Buddha was held at the Buddhist Institute in the capital's outlying district of Soc Son yesterday morning.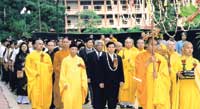 << President Nguyen Minh Triet attends celebrations to mark the 2551st anniversary of Buddha's birth. — VNA/VNS Photo Nguyen Dan
Speaking at the meeting President Nguyen Minh Triet reiterated the Party and Government's consistent policy to respect and protect the people's rights to freedom of religion in accordance with the country's laws.
"The party and government have always facilitated conditions for religious followers and dignitaries to pursue their religions and fulfil their duties as citizens", said the President.
He said, continuing the country's 2,000-year long history of Buddhism, the Viet Nam Buddhist Sangha has contributed much to the nation, in both socio-economical development and in promoting the fine tradition of mutual support of the Vietnamese people as they build a modern and progressive society.
President Triet called on the Viet Nam Buddhist Sangha, monks and nuns and Buddhist followers inside and outside Viet Nam to unite and make further contributions to the cause of national construction and defence.
Addressing the meeting, Pham The Duyet, Chairman of the Viet Nam Fatherland Front spoke highly of the achievements gained by the Viet Nam Buddhist Sangha in recent years.
He expressed his conviction that the Buddhist Sangha would initiate many more activities to consolidate national unity, conciliation and solemnity of the Sangha with the tenet "Religion – Nation – Socialism."
On behalf of the Executive Board of the Dharma Patronage Council of the Viet Nam Buddhist Sangha, the Most Venerable Thich Thanh Tu called on Buddhist followers nationwide to live constructively and actively take part in preparation activities for the coming 6th national congress of the Viet Nam Buddhist Sangha which is slated for late this year.
Also yesterday morning, President Nguyen Minh Triet, and Chairman Pham The Duyet attended the ground-breaking ceremony for the 2nd phase of the construction of the Viet Nam Buddhist Institute.
To mark the Buddha's birthday, nearly 600 pagodas in the capital organised celebrations, with municipal and district leaders holding meetings with Buddhist dignitaries to extend their greetings to Buddhists. Many humanitarian activities to help disadvantaged and sick people across the capital were also organised.
In Thua Thien-Hue Province, the local leaders and the provincial Fatherland Front Committee visited the Executive Board of the provincial Buddhist Sangha and pagodas.
A delegation of the People's Committee, People's Council and Fatherland Front Committee of central Da Nang City visited the Executive Board of the Da Nang Buddhist Sangha to show support for the local Buddhist population.
The Most Venerable Thich Giac Vien, acting Chairman of the Executive Board, expressed his gratitude to the city's authorities for their assistance and co-operation in allowing the committee to fulfil its tasks.