Vietnam to raise statue of self-immolated monk
Source: Tuoi Tre, Translated by An Dien, Than Nien News, July 26, 2007
Ho Chi Minh City, Vietnam -- Ho Chi Minh City will begin raising a statue of Buddhist monk Thich Quang Duc, who immolated himself four decades ago in protest of the oppressive Saigon regime, in September.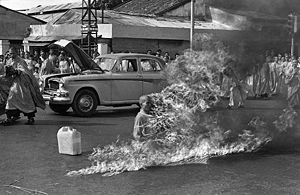 << Thich Quang Duc act of self immolation on June 11, 1963 in Saigon, Vietnam
The 6.3m-high bronze-cast statue will feature Thich Quang Duc sitting in a flame. The statue design was selected out of 12 works sent to a contest last month in HCMC.
The name of the designer has yet to be released.
Slated for completion next December, the statue will at the intersection of Cach Mang Thang Tam Street and Nguyen Dinh Chieu, the very spot where Thich Quang Duc burned himself to death in 1963.
Duc's immolation was in protest of the persecution of Buddhists by the US-backed Ngo Dinh Diem administration of South Vietnam.
The act of self immolation by Thích Quang Duc
Thích Quang Duc was a Vietnamese Buddhist monk who burned himself to death at a busy Saigon intersection on June 11, 1963. Thích Quang Duc was protesting the perceived persecution of Buddhism by South Vietnam's Ngo Dình Diem administration.
Contents
The act itself occurred at the intersection of Phan Dinh Phung street and Le Van Duyet street. (After 1975, the street names were changed to Nguyen Dinh Chieu and Cach M?ng Thang Tam.) His monastery was just outside of Hue in central Vietnam. The light blue Austin in which he drove to Saigon to perform the act can still be seen there (along with a picture showing his self-immolation, with his car in the background).
The incident was witnessed by David Halberstam, a New York Times reporter, who wrote:
"I was to see that sight again, but once was enough. Flames were coming from a human being; his body was slowly withering and shriveling up, his head blackening and charring. In the air was the smell of burning human flesh; human beings burn surprisingly quickly. Behind me I could hear the sobbing of the Vietnamese who were now gathering. I was too shocked to cry, too confused to take notes or ask questions, too bewildered to even think.... As he burned he never moved a muscle, never uttered a sound, his outward composure in sharp contrast to the wailing people around him."
After his death, his body was recremated. During the cremation, his shrunken heart still remained intact. It was thenceforth considered holy and placed in the care of the Reserve Bank of Vietnam.
Source: Wikipedia