Tasting veggie dishes in the backpacker's quarter
The Saigon Times, Aug 28, 2007
Ho Chi Minh City, Vietnam -- Foreign tourists visiting the backpacker's area around Pham Ngu Lao Street in District 1 in HCMC will notice during the next few weeks that the vegetarian restaurants are more crowded with Vietnamese guests than usual.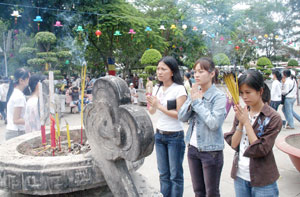 << Young people burn incense in the pagoda to pray for their parents in Vu Lan Festival
This is because the Vu Lan Festival, a Buddhist holiday held annually on the 15th day of the seventh lunar month, is celebrated this month. During this festival people express gratitude and appreciation to their mothers, and the Vietnamese believe that if they eat vegetarian food at this time their prayers for their parents will be more powerful.
Among the vegetarian restaurants in this area, An Lac Restaurant and Phap Hoa Restaurant are well-known for their tasty dishes and their rather contrary styles, one with Westernized rich dishes, services and architecture and one with unnamed vegetarian dishes served with a religious purpose.
Guests of An Lac Restaurant will notice the Italian style of the restaurant in its interior decoration, with walls titled with red bricks, counters made from brown wood and a menu rich of Italian foods such as spaghetti and pizza.
Mark Zazula, a Canadian diner at An Lac Restaurant said: " Before coming here I used to think that vegetarian food had only authentic Asian flavors. However, the veggie dishes at this restaurant taste like the non-veggie dishes of the Italian chefs."
Diners who like pizza may choose from a selection such as the Margherita vegetarian with tomato sauce and cheese, the Padrone with tomato, mozzarella and spinach, or the diet pizza with mozzarella, green pepper, olives and mushrooms. For those who prefer the spaghetti, there is Napoletrana with thick tomato sauce and onion, or Al Limone with cream and lemon sauce.
Beside the Italian flavored dishes the restaurant also serves Mexican and authentic Vietnamese dishes, such as curried fried rice in clay pot, green or yellow curry, pineapple or lotus-leaf rice.
While An Lac Restaurant's aim is for business purposes, Phap Hoa Restaurant serves guests with an aim to encourage people to come closer to Buddhism.
Madam Nguyet, the owner and chef of the restaurant as well as a vegetarian and follower of Buddhism since childhood, opened this restaurant with that purpose. She said, "In order to attract more people to follow a vegetarian diet, I have to try my best to cook well and listen to the ideas of diners for better flavors suitable to their appetites."
Alan Van Bemmel, a diner from New Zealand, said, "I have been a follower of Buddhism and a vegetarian for 28 years. I have also lived in Saigon for 12 years, so, I have dined in many vegetarian restaurants. Now, I go to Phap Hoa Restaurant more often than the other restaurants because of the tasty and natural flavors of the dishes and the hygienic food here."
There are many kinds of dishes at Phap Hoa Restaurant, but all do not have their own names and diners have to point out which dishes they like.
Explaining the reason for not naming the dishes, Nguyet said that the dishes are all made from three main ingredients, soybeans, flour and vegetables. She wants diners to know that these are the real ingredients so that she does not borrow the names of non-vegetarian dishes.
The hygiene of the dishes is also assured. The vegetables are soaked in salt water to cleanse toxic ingredients and vegetables are used within one day for freshness. Nguyet also stews the vegetables for sauces.
The restaurant also serves two natural and healthy drinks of soymilk and ma de, a drink from Vietnamese traditional medicine which is good for the liver.
If you go:
An Lac Restaurant: 175/4 Pham Ngu Lao Street, District 1.
Phap Hoa Restaurant: 200 Nguyen Trai Street, District 1.
Huy Nguyen