National Buddhist Congress opens in Vietnam
Mathaba, Dec 13, 2007
Hanoi, Vietnam -- The sixth National Buddhist Congress convened in Ha Noi on December 13, seeing the attendance of 1,400 dignitaries, monks and nuns and followers inside and outside the country, and representatives of State agencies and foreign diplomatic missions.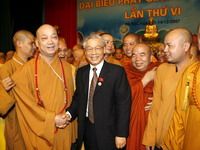 The Most Venerable Thich Tri Tinh, Chairman of the Viet Nam Buddhist Sangha (VBS)'s Executive Council, delivered an opening speech, reviewing the VBS's operation in its past term, from 2002 to 2007.
He said the VBS has made big progresses in all fields, particularly in training monks and nuns, restoring places of worship, in charitable activities and international Buddhist affairs.
Most Venerable attributed the support given by the Party, State and people to the VBS's achievements in its last term.
The VBS presented a report, touching upon its 2002-07 activities and outlining orientations for its performance in the 2007-2012 period.
The VBS has set to concentrate on developing the Sangha in line with the principles of honouring the spirit of solidarity and harmony for Dharma, the nation and socialism.
Accordingly, the VBS will work to make the Buddhist virtue more popular in the society, train monk and nuns to be devotional and capable, encourage the study of Buddhism, and bolster the Vietnamese Buddhists' solidarity with Buddhist followers all over the world.
It has decided to place its relationship with overseas Vietnamese monks, nuns and followers the top in its future activities.
Addressing the congress, National Assembly Chairman Nguyen Phu Trong highlighted the contributions of the VBS, its staff and followers to the nation in the past time.
"The VBS's practical and significant contributions have proven Buddhism as a religion that has engaged in reality, associated with the secular life and the nation, and honoured the patriot tradition," the NA Chairman said.
He reiterated that the State has always worked to ensure that religious practices are performed in line with the laws.
The NA Chairman said the State has created every favourable condition for "religious dignitaries and followers to pursue the faiths or beliefs they have chosen while still fulfilling their social obligations as citizens and taking part in the battle against biased forces inside and outside the country, even those who, in the name of Buddhism, have taken the advantage of religions to sow division harmful to the national unity."
For his part, President of the Viet Nam Fatherland Front's Central Committee Pham The Duyet agreed that the VBS has in its last term promptly taken moves to battle erroneous acts by conservative members to restore the so-called "the Viet Nam Unified Buddhist Church ".
The VBS should promote the cultural values of Vietnamese Buddhism and combine Buddhist culture with Viet Nam 's national and ethnic minority cultures to prevent the spread of negative and inhuman cultural trends to the country, the fatherland front official said.
During the two-day sitting, the congress will discuss and elect new positions and leaders of the VBS for the 2007-2012 term.