Gift of nature
by Giao Huong, Thanh Nien News, Feb 18, 2008
Sensing a destiny to build a monastery in Nepal, a Vietnamese monk received what seemed like a miraculous sign
Ho Chi Minh City, Vietnam -- Huyen Dieu, an overseas Vietnamese monk who now lives in Nepal, says in his recently-published book Khi Hong Hac Bay Ve (When the Sarus Cranes Came Back) that 2 Sarus Cranes, one of the world's most endangered species, suddenly flew into his monastery grounds to take up residence.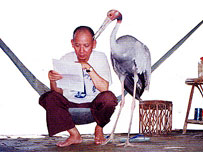 << Monk Hoang Dieu, the Sarus Crane's guardian
He tells readers that he considers this a fortune bestowed on him for achieving his lifetime endeavor – building a Viet Nam Phat Quoc Tu (Vietnamese Buddhist Monastery) in Lumbini, Nepal and also in Bodhgaya, India, where the Buddha achieved enlightenment.
He recalls that when he first came to Lumbini in 1969 there were few birds.
He describes the arrival of the cranes thus: "That morning I was just going out of the tent when I was astonished by a couple of giant birds that were taller than me. At that time I had no idea it was such an endangered species. I thought they were evil spirits or ghosts coming from another world!"
Since that day, despite being busy with monastery work, Dieu has taken on another chore – protecting his feathered friends from local poachers and providing an environment for them to flourish.
In his 200-page book, Dieu recounts the story of his destiny and how he was led to a holy site to build a pagoda.
He also details the life of the Sarus Cranes and their habits, his efforts to save the birds, and his role in helping Nepal end conflict and civil war.
Young pilgrim
Born in Dong Nai Province near Saigon, Dieu became a Buddhist monk at a young age and soon undertook a pilgrimage to India.
He later studied in France and other Western countries and became a lecturer in Asian history and religion.
Dieu made an oath to build Vietnamese monasteries when he first arrived in Lumbini in 1969 and saved all his income from teaching along with donations from his admirers around the world to build his pagodas.
The cradle of Buddhism stretches from modern-day Nepal to two north Indian states, Uttar Pradesh and Bihar.
In the past, during the golden age of Buddhism in the early Common Era, most residents in the area were Buddhist.
But the religion gradually fell into decay following a strong Hindu revival, and many Buddhist temples and academies fell into disuse.
Today, most people in this area are Hindu.
In the past two decades, devotees from Buddhist countries around the world, including Vietnam, have been flocking here to build Buddhist structures in an attempt to revive the religion.
Vietnamese pagodas
Bodhgaya, where Gautama Buddha, the founder of Buddhism, spent 49 days sitting in deep meditation under a bodhi tree before attaining unsurpassed, supreme Enlightenment, now has four Vietnamese pagodas including Dieu's first Vietnamese Buddhist Monastery, which was built in 1987.
Its architectural style is typical of Buddhist pagodas in Vietnam with tiled roofs and sculptured dragons on the curved edges of each roof.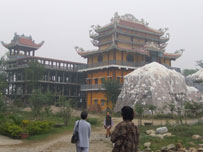 The Vietnamese pagoda in Lumbini >>
Hanging on the walls inside the large pagoda are many "parallel sentences" written by Dieu in Vietnamese.
In 1993, when the Vietnam Buddhist Monastery in Bodhgaya was still under construction, Dieu was invited to meet the King of Nepal.
He flew by the king's private plane to Lumbini, the birthplace of Buddha, and was asked to choose an area to build a pagoda.
Work soon started on a Vietnam Buddhist Monastery in Lumbini, the first international pagoda in the holy site situated at the foothills of the Himalayas, some 250 kilometers southwest of Nepal's capital Kathmandu.
At that time, the region was still deserted.
Dieu, also the chairman of the World Buddhist Federation, traveled the world to inspire Buddhists to build more temples and pagodas in Lumbini, turning it into an international Buddhist pilgrimage site, now with 22 pagodas.
Recently, local journalist Hoai To Hanh, who says she was so touched by Dieu's humanity and beneficence, has taken out a loan to publish 30,000 more copies of her icon's book.
Hanh is also appealing for donations with the goal of releasing a million versions including some with English translations.
Dieu will attend the United Nations' Vesak 2008, to be held in Hanoi this May to promote his book, "When the Sarus Cranes Came Back."