Viet Nam Buddhist Church welcomes visit by Monk Thich Nhat Hanh
VNA, Jan 10, 2005
Ha Noi, Vietnam -- The Viet Nam Buddhist Church (VNBC) will do all it can to facilitate the visit by Monk Thich Nhat Hanh and the international delegation of Buddhist monks and nuns, and to help them see with their own eyes the renewal process in Viet Nam and the growth of the Buddhist Church in the country.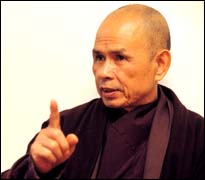 Talking with the Viet Nam News Agency on Monday, Most Venerable Thich Gia Quang, deputy head of the International Buddhism Board under the VNBC's Executive Council, said he hoped the delegation of 190 monks and nuns will come to be familiar with Viet Nam's policy of respecting religious and belief freedom and promoting national unity.
"The VNBC has coordinated with relevant agencies to ensure safety at the highest level for the delegation in every aspect, from transport, food, health care to security," Most Venerable Thich Gia Quang said. He added, "the VNBC has made all preparations in coordination with not only the central government and the authorities in localities the delegation is expected to stay, including Ha Noi, Ho Chi Minh City, Hue and Binh Dinh, but also with provinces where the delegation will only go for short visits such as Quang Ninh, Phu Tho, Bac Ninh, and Ha Tay. "
Monk Thich Nhat Hanh, alias Trung Quang, will visit Viet Nam from January 12 to April 14 together with a delegation of 100 foreign monks, nuns and 90 Buddhist lay members.
The monk will meet with leaders of the Viet Nam Buddhist Church, give teaching sessions and meet with Buddhist followers in Ha Noi, Ho Chi Minh City, the central city of Hue, and the central province of Binh Dinh. He will also visit many pagodas across the country.
"We are looking forward to meeting the delegation," said nun Thich Dam Lan at Bo De pagoda in Ai Mo in the Ha Noi suburban district of Gia Lam, where the Zen Master and his entourage will stay during their time in Ha Noi. "Among us Buddhists, it is said that every monk arriving at the pagoda is a Buddha, but it is our karma that we have the chance to receive such a special delegation," she told the Viet Nam News Agency.
Nun Thich Dam Lan said the pagoda has been making preparations for the visit by Monk Thich Nhat Hanh for the past month, repairing rooms, buying food as well as blankets as the weather is cold in Ha Noi now. She said the pagoda has got used to hosting up to 3,000 visitors as at the annual celebrations of Buddha's birthday, and delegations of as many as 150 monks and nuns every summer.