Pilgrimage to the North in the celebration of Vesak
VietNamNet Bridge, April 22, 2008
Hanoi, Vietnam -- The United Nation Days of Vesak (UNDV) celebrations, one of the most important Buddhist festivals marking the birth, enlightenment and passing away of Gautama Buddha, will take place in Hanoi from May 13-17.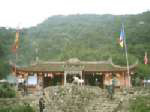 << Van Tieu Pagoda in Yen Tu Mountain in Quang Ninh Province.
On this occasion, a series of activities featuring Vietnamese culture and Buddhism in Vietnam will also be held in other regions, and will include exhibitions on the arts, architecture and cultural heritage of Buddhism in Vietnam, including dancing and singing performances.
To coincide with these celebrations, Vietravel has introduced a series of eight pilgrimage tours to the lands of Buddhism of Vietnam in the North. Among them is the birth-place of Vietnamese Buddhism, Yen Tu Mountain. Eleven pagodas, hundreds of temples and 20 ancient architectural sites are located on this mountain, which is 1,068 meters high.
Another destination is Ha Long Bay, a declared world natural heritage, and many of its magnificent caves including Dau Go, Thien Cung and Dinh Huong, as well as Ga Choi islets and Dau Pagoda, one of the most ancient pagodas in Vietnam, in Bac Ninh Province.
For Buddhism followers, Huong Pagoda, also known as the Perfume Pagoda, is another must-visit place on their pilgrimage and Vietravel has added this famous stop to their tours.
Back in Ninh Binh Province, the Bai Dinh Pagoda contains a large bronze statue of Buddha, weighing 100 tons, three bronze statues, one of which is the goddess of Mercy, weighing 52 tons each, and most famously 500 Arhant statues and two great bells.
Other options on the Vietravel pilgrimage tours are the Hoa Lu ancient imperial city of King Le and King Dinh, Sapa, with its magnificent landscapes of the highlands of Ham Rong Mount, Bac Waterfall and Ta Van Village and Hanoi with an abundance of historic sights such as the Temple of Literature, Tran Quoc Pagoda, Uncle Ho's tomb and the ancient town. Visitors to Hanoi will also be present at the opening ceremony of the Vesak celebrations at the National Conventional Center in Hanoi.
"There are three one-day tours, all starting on May 14: the Hanoi - Huong Pagoda tour priced at VND569,000 per person, Hanoi - Yen Tu Mount tour priced at VND629,000 per person and Hanoi - Bai Dinh Pagoda - Hoa Lu imperial city tour priced at VND499,000 per person.
Other tours vary in length, such as the two-day one-night Hanoi - Halong Bay - Yen Tu Mount tour priced at VND1,050,000 per person; the three-day two-night Hanoi - Lao Cai and Sapa tour priced at VND2,229,000 per person and Hanoi - Yen Tu Mount - Halong Bay - Ninh Binh, a four-day and three-night tour priced at VND2,490,000 per person.
The six-day and five-night tour from Hanoi to Ninh Binh via Yen Tu Mount and Halong Bay is priced at VND2,999,000, and a five-day and four-night tour from Hanoi to Ninh Binh is priced at VND1,990,000. Both tours include participation in the Vesak celebrations.
For more information, contact Vietravel: 190 Pasteur Street, District 3, HCMC, tel: (08) 8228 898.