Dalai Lama absent as Vietnam hosts Buddhist festival
DPA, May 14, 2008
Hanoi, Vietnam -- Thousands of Buddhist clergy and lay people from over 80 countries opened a four-day festival in Hanoi Wednesday celebrating Vesak, an international holiday commemorating the birth of the Buddha some 2,500 years ago.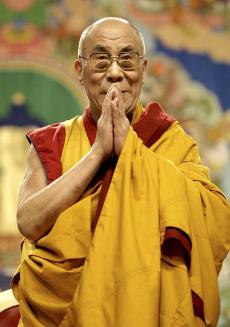 << The Dalai Lama: Absent from UN sponsored Vesak gathering in Vietnam
With shaven-headed monks in saffron, maroon and silver robes filling Hanoi's National Conference Centre, Vietnamese President Nguyen Minh Triet called the international Vesak gathering "an opportunity and bridge for all fellow Buddhists to meet."
But two prominent Buddhist congregations were absent: the Dalai Lama's Tibetan Buddhist sangha, and the banned Unified Buddhist Church of Vietnam, or UBCV, which opposes the official government-affiliated Vietnam Buddhist Sangha.
In an interview in April, the vice head of the Vietnam Buddhist Sangha, Thich Thanh Tu, said the Dalai Lama had been invited to attend the Vesak gathering. But a representative of the Dalai Lama, Tenzin Taklah, said no invitation had been received.
Vietnam has close relations with China, which has harshly criticized the Dalai Lama for decades, accusing him of separatism, terrorism, and of fomenting violent demonstrations in Tibet in March. The director of China's State Administration for Religious Affairs, Ye Xiaowen, was among those who addressed the conference Wednesday morning.
The UBCV is an alternative Buddhist sangha descended from Buddhist groups that were active in the former South Vietnam before it was defeated and reunified with North Vietnam in 1975. The government does not recognize the organization, and has held its aging leaders, Thich Quang Do and Thich Huyen Quang, under house arrest for years.
The UBCV says that in the run-up to Vesak, its monks in several provinces in central Vietnam have been harassed by police, and that at least one pagoda has been seized by authorities. The US's Committee on International Religious Freedom cited the reported harassment in its May 2 recommendation that Vietnam be placed on the list of "countries of particular concern" for religious freedom issues.
Vietnamese President Triet said the country's hosting of Vesak "shows that the state of Vietnam always respects the importance of religious moral values in our life."
Vesak is originally an Indian Buddhist holiday, not previously celebrated in most other Buddhist traditions. The international festival, known as the United Nations Day of Vesak, was launched in 1999 with a vote in the United Nations General Assembly, but is not organizationally affiliated with the UN.
The theme of this year's conference is "Buddhist Contributions to Building a Just, Democratic and Civil Society." Organizers say they plan to set several world records, including records for the largest vegetarian meal ever, and for the Buddhist flag with the largest number of signatures.