A Long Journey Home
BY KAY JOHNSON, Time Asia Magazine, Jan 16, 2005
HANOI, Vietnam -- It was a homecoming more fitting for royalty or a rock star than a monk. The 1,000 or more devotees who waited in the chilly dawn at Hanoi's Noi Bai Airport clutched bouquets of flowers, sang songs, and jostled for a better view. For a bunch of Buddhists, they were pushy: when Thich Nhat Hanh finally stepped out of immigration, they surged forward with a force that crushed people against doors and tore sandals, hats and gloves off dozens of others. "I touched him! I touched him!" shouted one woman, who then burst into tears.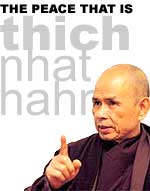 Buddhist leader Thich Nhat Hanh's return to Vietnam last week inspired particular rapture because it was so long in coming. The 78-year-old monk, a prominent peace activist during the Vietnam War, was banned from returning from a speaking tour in the U.S. in 1966 by both the U.S.-backed South and communist North Vietnam. Exiled in France, he traveled to the U.S. frequently, helped inspire Martin Luther King Jr. to oppose the war, and led a Buddhist delegation to the 1969 Paris Peace talks.
After the war, Nhat Hanh became a revered meditation teacher and a public face of Buddhism second only to the Dalai Lama. He founded three monasteries in the U.S. and one in France and taught tens of thousands his concepts of "engaged Buddhism," which emphasizes meditation, peace and social justice. His 80 published books have sold 1.5 million copies. "In the West, he's an icon," says James Shaheen, editor and publisher of the U.S. Buddhist magazine Tricycle. "I can't think of a Western Buddhist who does not know of Thich Nhat Hanh."
Now, Vietnamese are getting the chance to reacquaint themselves with Nhat Hanh. After the fall of Saigon in 1975, the victorious communists folded all Buddhist sects into one state-controlled church, and monks who wouldn't submit were placed under pagoda arrest. Nhat Hanh's writings were seized by the authorities, and the monk was unable to get a visa to return to his homeland for nearly 30 years. After more than a year of negotiations, Hanoi allowed him and 200 followers to come back for four months of touring and teaching. (The government also allowed four of his books to be printed.)
Sitting on a cushion in the monastery he is housed in, Nhat Hanh is unruffled by all the attention he's receiving. "I know we will be observed by many people, even by?especially by?the police," he told TIME. "But we don't mind because we believe the police officers also have the Buddha nature. If you radiate joy, compassion, understanding, peace and calm, they will be able to appreciate it and profit from it." He said he planned to visit detained Buddhist dissidents as well as official church leaders, and hoped his visit would relax the official attitude toward religion.
That would be a step forward. Tension between the government and non-state religions have risen so high that the United States last year placed Vietnam on its list of countries of particular concern for freedom of religion, along with Iran and North Korea. Leaders of the outlawed Unified Buddhist Church of Vietnam, which Nhat Hanh left to form his own Zen sect, have been under house arrest for most of the last 20 years. In November, authorities sentenced a Mennonite pastor to three years in prison. Evangelical Christians in the Central Highlands have seen church leaders arrested and at least one church burned down, according to advocacy group Human Rights Watch, which released a report last week saying authorities rounded up dozens of evangelicals. (Hanoi hotly denies those accusations.)
The paradox is that millions of the faithful have more freedom to worship than ever before?as long as they do it in state-approved churches. Analysts say Hanoi's crackdown on non-sanctioned Buddhists and Christians stems not from godless communist dogma, but from worries about politics. "It is not a fear of religion itself," says Dr. David Koh, a fellow specializing in Vietnam at Singapore's Institute of Southeast Asian Studies. "It's a fear of the use of religion by outsiders to topple the Vietnamese government."
Nhat Hanh, with the serene attitude of a Zen master, says he's not worried about being used as a propaganda tool. "That may be possible," he allows. "But my thinking is not conditioned by these things." His goal, he says, is to allay government concerns that independent Buddhism is a threat. "In order for freedom to be possible," he says, "we should help remove fear, misunderstanding and discrimination." Dispelling decades of suspicion may be a quite a challenge, even for a Zen master.