Thousands mourn Vietnam's top dissident Buddhist monk
AFP, July 11, 2008
HANOI, Vietnam -- Thousands of followers on Friday mourned the death of Vietnam's top dissident Buddhist monk Thich Huyen Quang at a funeral at his pagoda in central Vietnam, supporters, a witness and an official said.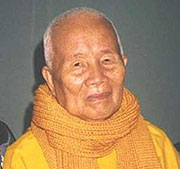 Quang, who died last Saturday aged 87 after decades of internal exile, led the Unified Buddhist Church of Vietnam (UBCV), which has refused to come under state control and was effectively outlawed in the early 1980s.
"Thousands of people and followers were at the funeral, many of them Buddhist monks wearing their robes," said the Vietnamese eye-witness, who asked not to be identified. "The funeral was organised by his followers."
A provincial official, speaking to AFP on condition he not be named, said: "No representative from the Vietnamese government attended the funeral."
A Paris-based UBCV spokesman said that 6,000 monks, nuns and lay followers of the banned church defied police warnings and controls to attend the funeral at the Nguyen Thieu monastery in Binh Dinh province.
Around 200 wreaths and plaques honouring Quang under his title of UBCV Supreme Patriarch were placed around the coffin, he said.
"The fact that Vietnam did not interfere in the funeral is a victory for the international human rights community, and the result of concerted pressure from diplomats, legislators and civil society movements worldwide," said UBCV spokesman Vo Van Ai.
"UBCV followers were able to pay their last respects to Thich Huyen Quang in dignity and calm, and he was laid to rest by those who loved and supported him throughout his peaceful combat for religious freedom and human rights."
State-controlled media had earlier in the week announced the ceremony would be conducted by the state-sponsored Buddhist church and labelled UBCV followers "extremist elements disguised as Buddhist monks."
The media attacks, and reports that large numbers of plain-clothes police were at the pagoda, sparked protests this week from international human rights groups and raised fears of disturbances at the funeral.
Amnesty International -- which first named Quang a prisoner of conscience in the 1990s -- urged Vietnam to allow his funeral to take place "without hindrance and harassment of UBCV members by agents of the state."
The UBCV's deputy Thich Quang Do -- who had been attacked in the state press for his "evil plot" to hijack the funeral -- led the ceremony.
Do, who has also spent decades under "pagoda arrest," is expected to become the new supreme patriarch of the UBCV after an interval of several weeks, in line with Buddhist beliefs.
According to the Paris UBCV office, he said, standing before the coffin:
"Over the past 30 years, from 1975 until today, whereas religious and political repression raged in Vietnam, you were like a great tree that brought us shade and shelter.
"You were the helmsman whose firm hand safely guided the Unified Buddhist Church of Vietnam through persecution and oppression."
On Thursday Vietnamese foreign ministry spokesman Le Dung said that "there is no organisation called UBCV."
But Do, according to his supporters, said to his late friend Quang: "You have left us for ever, but the struggle for UBCV legality goes on. We pledge to continue your peaceful combat, to follow the path you traced.
"We know that countless obstacles lie ahead, and we are ready to confront them. We will not cease until we have fulfilled your dream to see the UBCV regain its legal status and win back the freedom of religious activities stolen from us by the communist regime in 1975."