Photo exhibit captures Buddhist philosophy
VietNamNet Bridge, Aug 4, 2008
Ho Chi Minh City, Vietnam -- Some photographers strive to capture the beauty of nature and human life, but 12 professional photographers and monks in the Ha Noi-based Que Huong Photography Club are out to show the Buddhist philosophy of everyday life.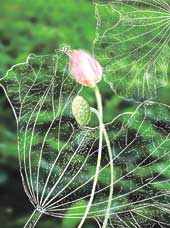 The non-stop hustle and competitions of daily life have made people ignore themselves and the things around them. In the chaos of it all, everyone could benefit from a minute or two relaxing and musing on the life they are living.
The 63 photos in the Buddhist-themed exhibition Khoang Lang (The Tranquillity) hosted by HCM City Photographers' Association depict and suggest the call for the restless to come back to their real, human livelihoods. They record the destinies of a handful of fates.
Reflecting on their own life experiences, the photographers embody their philosophies as flowers, trees and landscapes. The style of the exhibit was conceived to a metaphor itself of Buddhist teachings.
Most of the photos in the exhibition have no name, perhaps a way to let viewers discover their own way into the compositions' meanings and insights.
The Venerable Thich Minh Hien, head of the Huong (Perfume) Pagoda in Ha Tay Province, and eleven other photographers from the Que Huong Club, are using the Khoang Lang exhibition to depict the hidden corners of life, such as the inner world of people and society.
Without a word, a series of four photos of the Venerable Thich Minh Hien ascending the Huong Tich Cave at the Huong Pagoda with a walking stick lets viewers into the Buddhist meditation process.
The exhibition is shown at the HCM City Exhibition Centre at 92 Le Thanh Ton Street in District 1. Photos will be sold to raise money for disadvantaged children.