Ephemeral traces
Thanh Nien News, Nov 14, 2008
An Giang, Vietnam -- The special technique of inscribing Buddhist texts on palm leaves is vanishing due to the lack of inter-generational knowledge transfer.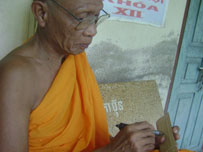 << Monk Chau Ty from Preyveng Pagoda in the Mekong Delta's An Giang Province writes on a palm leaf page.
In the tradition of producing Buddhist texts, a collection of books made from the leaves of a fan palm tree species (Corypha lecomtei) is a special feature of Xvayton Pagoda in the Mekong Delta's An Giang Province.
Among the Khmer pagodas nationwide that store this type of book, Xvayton Pagoda located in Tri Ton District has the largest number of copies, with more than 100 texts certified by the Vietnam Book Records Center.
Most of the books were written by the late senior monk Chaoty, with several aged over 100 years old but still in good condition. All of the texts are carefully wrapped in cloth and placed inside anti-humidity glass cabinets to prevent termites from destroying the treasures.
Palm leaf books contain either Buddhist texts or Khmer folk stories. A series of books on the teaching of Buddhism usually weighs about one kilogram.
The difficulty in making the books stems from how long it takes to accumulate enough raw materials. The Corypha palm tree species, whose leaves are used as the platform for etching texts, usually takes 10 years to produce shoots after its seeds are sown.
Before the shoots are fully grown, caretakers have to tie them with paper so they eventually become yellowish flat leaves. When ready, the leaves are cut, flattened with a plank of wood, dried, and then cut into paper-sized sections.
One leaf can yield three to four sections, and each section serves as a page for a future book. A sharp-pointed (steep) tip or needle is required to inscribe words onto the leaves. After etching the texts, one would dip a piece of cloth into a mixture of coal powder and kerosene to wipe the small crevices, bringing the words to sight.
In addition to the meticulous process of etching the leaves, the texts also have to be written in an ancient Khmer language which nowadays few know. Each leaf section contains five lines of words, and writers must engrave carefully or else the "page" would be ruined.
More than 60 years ago, many people in the Mekong Delta could make palm leaf books, but now only a handful of sexagenarians are capable of producing such works, said the head monk of Xvayton Pagoda.
Chau Ty, a 62-year old monk from Preyveng Pagoda in Tri Ton District, is regarded as the last individual in the province who knows how to produce such books.
According to Ty, it is difficult to pass on the art of making palm leaf books to the young generation as few people know the ancient Khmer language and Corypha palm trees have become rare in the region.
Ty began writing Buddhist sutras on palm leaves at the age of 22, having learned the art from a former head monk of the pagoda.
"I am planning to teach the art of making palm leaf books to others," he said, adding that he has authored more than 200 copies to date.
"If we let this art vanish and lose the tradition our forefathers created, we will be at a great fault."