Buddhist architecture tainted
by Do Trong Hoi, VNS, Feb 2, 2009
THUA THIEN HUE, Vietnam -- Hue Buddhism has its roots in a remote past, far back to the Tran dynasty of the 14th century, or possibly even earlier. Age-old traditions and culture that have been nurtured during such a long period have yielded a distinct architectural style represented by numerous pagodas.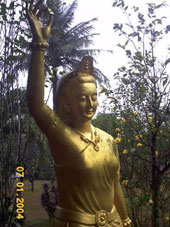 << What am I doing here? Statues misrepresent Buddhist values at Truc Lam Pagoda in Hue - VNS Photo Do Trong Hoi
The pagodas are a distinctive symbols of the well-known architectural landscape of the city, and help made it a World Heritage site by UNESCO. Every Vietnamese person is proud of this cultural asset.
One of the image that people from Hue always bear in mind and want to preserve is the modest, small, tranquil Buddhist pagodas hiding complacently in the quiet hilly surroundings of the town.
Beside their roles as a religious centre, these are, in a way, schools that teach lessons on Nature's serenity and human being's sage modesty.
However, at present, both alien and worldly elements are being, ignorantly or unconsciously, added to the perfect Buddhist architectural works.
One now finds sets of lamentably gaudy statues decorating the pagoda gardens. These additions are all the more lamentable, since the pagodas in question are among the great, prestigious pagodas in Hue, often referred to as To dinh (patriarchal pagodas).
These statues of unforgivable artistic value raise just curiosity and "worldly admiration" instead of spiritual initiative for enlightenment or peace - the true purpose of the pagodas.
Here and there one also finds new, outlandish traits of the northern Vietnamese architectural style - or even foreign styles - which are not at all harmonious with the general structure of the pagodas or the general layout of the area.
Furthermore, new massive construction or enlargement of the pagodas seemingly reveals fear or lack of appreciation of the natural woody environment that surrounds the area. The construction replaces the primitive, simple life favourable to meditation.
In a world, the architectural style of Buddhist pagoda in Hue is created with the heart and mind of successive generations of the Buddha's sage disciplines. Each of them is a perfect, complete entity in itself.
Any imprudent effort to change or add new elements to the overall architectural ensemble of the area might regretfully damage the pagoda's purpose. Worse still, it could give devoted Buddhist followers a misleading interpretation of Buddhism.