Temples crowded in first days of Lunar New Year
by Phuong Lan, Saigon GP Daily, Feb 2, 2009
Ho Chi Minh City, Vietnam -- Going to temples for New Year's Eve to pray for a happy and prosperous new year is a tradition for Vietnamese people. This Lunar New Year was no exception, as all small and large temples nationwide were crowed with people.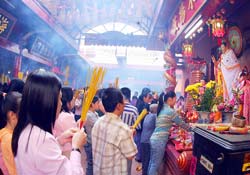 << People offer prayers at a temple in HCMC on the first day of the year
In Ho Chi Minh City, after the city's firework ceremony was over, dwellers began to go to temples to pray for a happy and lucky New Year. Vinh Nghiem, a famous Buddhist temple on Nam Ky Khoi Nghia Street, District 3, and Ngoc Hoang, a temple where the Jade Emperor is worshiped, on Mai Thi Luu Street, District 1, were crowded with thousands of people.
In Binh Thanh District, hundreds of city residents flocked to the tomb of the Le Van Duyet (1763-1832), a military dignitary of the Nguyen Dynasty (1802-1945) and governor of Gia Dinh (now Binh Thanh District of Ho Chi Minh City), to pay him tribute and pray for a happy and prosperous New Year. Traffic congestion was reported to have occurred around the front gate of the tomb.
In Ha Noi, the biting cold weather on the New Year's Eve could not prevent the people going to temples.
The temple where Tran Hung Dao (1228-1300), military Grand Commander of Thang Long (now Ha Noi) during the Tran Dynasty (1225-1400) and hero who twice defeated the mighty Mongol Yuan Dynasty under Kublai Khan, is worshipped, was crowed with people who came to pray for the country's safety and peace, and for a happy and prosperous New Year.
Buddhist temples, including Ha and Tran Quoc, were also crowed with prayers. After the 5th day of the first Lunar month, Hanoians began to go on pilgrimages to famous Buddhist temples such as Co Loa, Yen Tu, Huong and Thay.
In Da Lat, the city of flowers, capital of Lam Dong, a province located in the Central Highlands, city residents, including young lovers, came to temples in crowds for New Year's Eve to pick buds or young leaves on trees to take home.
Picking buds or young leaves on New Year's Eve in temples is a custom of Vietnamese people. Many do so as they believe that bringing a bud or a young leave from a temple on the first day of the year will bring luck and happiness to their families for the year.
In the early morning of the first day of the Lunar Year, long lines of people flocked to famous Buddhist temples in Da Lat like Truc Lam, Linh Son and Quan Am in the cold weather.
Going to temples during the first days of the New Year has become a tradition of many Vietnamese people. However, it has been taken advantage by dishonest people who want to make easy money.
Motorbike park attendants at temples charge double their normal services. Sellers of incense and fortune-teller books display their products in front of the gates of temples, partially blocking paths leading to temples.
There are hopes that such annoyances will be eliminated in the coming future to ensure that temples remain sacred places for worship and pray in the first days of the year.