Village of fake Buddhist monks
by Vuong Tran, VietNamNet Bridge, March 7, 2009
Nghe An Province, Vietnam – Impersonating Buddhist monks is a "hereditary occupation" in Village 5, Nghia Dong commune, Tan Ky district, in the central province of Nghe An. Village 5 is called the village of "fake monks".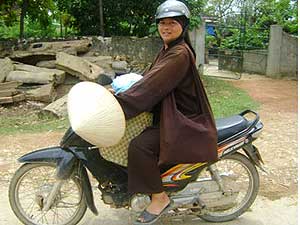 << A faked nun from Nghia Dong commune, Nghe An Province.
These "fake monks", who are farmers, travel throughout the country to collect money from Buddhist followers to put into their own purses. Some "monks" get rich from this job but there are many others going to jail.
Why pretend to be monks?
Con River's wharf is often crowded with "fake monks" in late afternoon. These people return their home village after a "working day".
"These 'monks' often come home by waterway to dodge the public's eyes. They don't dare to go on the main road of our commune to avoid buffalo boys. Whenever these boys see fake monks, they always sing a folk song to jeer these people. Fake monks are ashamed so they have to choose another road," said a boat man.
The boatman said his boat transports over 30 fake monks a day. "The recent Tet (lunar New Year), the pretend monks returned home from everywhere. All of them had modern cell phones. They looked quite rich!" he added.
Passing the Con River, all "monks" immediately take off "tools" like brown clothes, cloth bags, brown scarfs, etc. to become normal people with full heads of hair. Nobody could know that they had just been "monks".
"There are many people in Nghia Dong commune who work as fake monks, but my village has the highest number of these monks," said the owner of a small tea shop in Nghia Dong commune.
Village 5 has 180 households, totalling over 700 people. More than 200 people earn their living by disguising themselves as monks. There are some families all the members of which are fake monks.
There are two kinds of fake monks: those who do this "job" the whole year round and those who consider it a seasonal job during their leisure time after harvest. Most of them ride on motorbikes to go to far locations to 'work'.
This "job" is said to have appeared 20 years ago and the "founder" is a very old man. This man previously returned to the village but recently nobody sees him anymore. At the beginning, several villagers followed the man to earn their living. Gradually, seeing that this "job" was a good one, many people become pretend monks. Many families in Village 5 have become rich thanks to this profession.
Fake monks in the Central Highlands
A man named K who was born in Nghia Dong commune and now lives in the Central Highlands city of Buon Ma Thuot took us to meet fake monks there. He said: "These are professional fake monks. They only return home once a year to visit their families. The whole time they work as fake monks."
He led us to Yok Don National Park and told us: "All fake monks stay here. They are workers on coffee farms and become monks during their leisure time. When I first came here and was unemployed, a fake monk from my home village saw me. He bought me a cup of coffee and asked me whether I would like to work as a fake monk, and that he would give me brown clothes."
These "monks" often visit families to "sell incense for charity". They often show buyers a very old book recording the name of incense buyers as "benefactors". Thinking that they are doing act of charity, many people pay a lot for a bundle of incense. Some monks can earn up to one hundred USD per day from selling incense while they could would have been making VND70,000 ($4) working on a coffee farm.
Fake monks often live in tents. They work during the day and practice praying at night. They buy Buddhist prayer-books to read and learn. Whenever they sell incense, they talk about Buddhist theory to sell the scam.
"They are very quick. I just saw some men in coffee worker clothes. They just ran into a bush of coffee for one minute to become a monk," K said.
One day in the central province of Nghe An, I saw two Buddhist nuns stop their motorbike in Village 9 in Xuan Thanh commune, Yen Thanh district. A nun went into a grocery offering incense for charity. The grocery owner, a woman, said she also sold incense so she didn't want to buy more incense. But after the nun's presentation, she bought two bundles of incense for VND40,000 while she sold a bundle of incense for just VND1,000. "I bought these bundles of incense for charity," the woman said.
Seeing me taking her photo, the nun seemed to be frightened. I asked her: "What is your name and which pagoda do you come from?" She stammered: "My name is Dieu Linh, from Phap Linh pagoda in Quang Tri province." "Why do you ride a motorbike with a licence number from Nghe An province?" She said: "I borrowed this motorbike." When I asked her about her card, she said she forgot it and immediately left with the other nun.
Monks arrested
Some unlucky "monks" were arrested while they were "working". Recently, police in Vinh city, Nghe An province arrested Vu Thi Lan, 32, and Pham Thi Hoi, 38, from Nghia Dong commune for impersonating monks to cheat people. Police seized VND1.5 million (VND900) from the two fake monks. They said they took this amount of money from a person using a "charity trick". They admitted that this "job" was so lucrative that they earned their living by this job.
In the southern province of Dong Nai, police arrested a fake monk named Nguyen Van Tu, 44, also from Nghia Dong commune. He has never been in a pagoda but he has travelled everywhere to raise funds for pagodas and sell incense.
Tu said that while he was working in Long Khanh district, Dong Nai province, he met a fellow-countryman who was a fake monk. This man gave Tu brown clothes and necessary tools and a letter of introduction of a pagoda named Buu Long (a false pagoda). Since then Tu has worked as a pretend monk.
Saying that he wanted to buy a statue for his pagoda, Tu had an invoice worth VND10 million ($600) from a sculpture shop. He took this invoice to many families in Dong Nai to raise money.
HCM City police also arrested four fake nuns from Nghia Dong commune, Duong Thi Thuy, 38, Duong Thi Nga, 39, Vo Thi Quynh, 29, and Nguyen Thi Phuong, 40.
The sheriff of Nghia Dong commune, Le Cong Hoi, said fake monks are a problem of Nghia Dong but the local authorities have failed to prevent it because most of them have Buddhist cards.
"We have warned some provinces about fake monks. We hope competent agencies will take action to help Nghia Dong commune rid itself of fake monks," he said.