Giant jade Buddha to start world tour in Vietnam
by Giao Huong, Thanh Nien News, March 7, 2009
Hanoi, Vietnam -- The world's largest jade statue of the Buddha will be displayed around Vietnam from March to May to begin its world tour.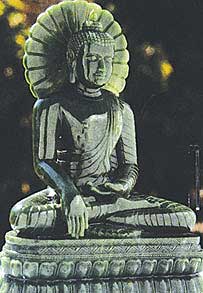 << "The Jade Buddha for Universal Peace," the world's largest jade Buddha statue, will tour Vietnam from this month
The statue, called "The Jade Buddha for Universal Peace," measures 3.5 meters tall, including the lotus base and fan throne, and weighs 4.65 tons.
The statue is modeled on the Siddhartha Gautama Buddha inside the Mahabodhi Stupa in India's Bodh Gaya.
It is carved from an 18-ton Nephrite jade boulder called "Polar Pride," found in Canada in 2000 and considered the world's largest piece of pure jade.
The statue's initiator, Nepalese Lama Zopa Rinpoche, said it would illuminate the world and bring peace, happiness and solace and help prevent destruction, including war.
Rinpoche, who had reportedly dreamed of a shining jade boulder in Canada before the discovery, persuaded an Australian Buddhist named Ian Green to carve the "Polar Pride" into a Buddha.
The rock was transported in late 2006 from Vancouver in Canada to Bangkok in Thailand, where Thai sculptors finished the statue a full two years later.
The statue will be displayed in several locations in Vietnam including Quan The Am Pagoda in Da Nang from March 13-15, Dai Tung Lam Pagoda in Ba Ria-Vung Tau from March 21-26, Pho Quang Pagoda in Ho Chi Minh City's Tan Binh District from March 29 to April 5 and Van An Pagoda in Dong Thap Province from May 1-10.
After Vietnam, its first destination, the statue will travel to Australia, the US, Indonesia and other lands before being placed permanently at the Mahabodhi Stupa of the Atisha Center in Australia.