Dissident Vietnam monk joins opposition to mine
AFP, March 2, 2009
HANOI, Vietnam -- A dissident Buddhist monk has joined scientists and intellectuals in opposing a government plan to mine bauxite in Vietnam, according to a statement received from his overseas spokesman.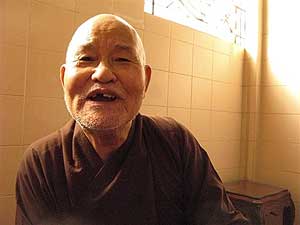 << Vietnam's dissident Buddhist monk Thich Quang Do has joined a group to oppose a Vietnam government plan to mine bauxite
Thich Quang Do, head of the banned Unified Buddhist Church of Vietnam (UBCV), called on workers to stay away from factories to protest the plan to allow Chinese companies to mine bauxite in Vietnam's Central Highlands.
Do called on Vietnamese to denounce the plan's "destructive effects on the lives and environment of tens of thousands of indigenous people," in the statement received late Wednesday.
"This project is not the fruit of studies by economists or environmental experts, but an illustration of Vietnam's dependence on China," he said, urging preparation for a month of "peaceful demonstrations at home" during May.
Vietnamese scientists and intellectuals have strongly denounced the government in recent months for having authorised Chinese involvement in the project, which is under development.
They say it threatens national sovereignty and the environment.
Vietnam's war hero General Vo Nguyen Giap is among those who have urged the communist government to reconsider the plans.
Do, who is effectively under house arrest in Ho Chi Minh City, according to his spokesman, said a permanent Chinese presence in the Central Highlands would pose "an alarming threat" to Vietnam's national security.
China and Vietnam fought a war in 1979 and the population remains distrustful of its big neighbour's territorial ambitions.
State-linked Tuoi Tre newspaper last weekend reported that Chinese contractors have already won numerous key projects and sent thousands of workers and equipment to Vietnam.
The Unified Buddhist Church has been banned since the early 1980s when it refused to join the state-sanctioned Vietnam Buddhist Church.