Vietnam says booting Buddhist monks not repression
By BEN STOCKING, AP, Aug 5, 2009
HANOI, Vietnam -- Monks following a world-famous Buddhist teacher are being evicted from a Vietnamese monastery for failing to clear their activities with the government, an official said Tuesday, but he denied the dispute was about religious freedom.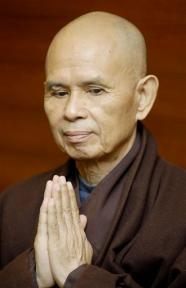 << FILE - In this March 20, 2007 file photo, Vietnamese Zen master Thich Nhat Hanh, greets upon his arrival at Suvarnabhumi international airport in Bangkok, Thailand. Communist Vietnam's sometimes edgy relationship with religious freedom is being tested in a dispute over a monastery inhabited by disciples of Hanh, one of the world's most famous Zen masters. (AP Photo, File)
Followers of Thich Nhat Hanh, who has sold more than 1 million books in the West, say the government is punishing them because their France-based leader suggested that his native Vietnam's communist government should abolish its control of religion.
However, Bui Huu Duoc of the government's Committee on Religious Affairs, blamed the dispute on a failure to abide by local regulations and said it is normal for governments to oversee the operations of religious groups operating within their borders.
"Managing religious groups doesn't mean controlling them," Duoc, who oversees Buddhist affairs for the committee, said in an interview with The Associated Press. "We're here to facilitate their efforts to do good things for the country."
However, Duoc did allow that officials were "very surprised" at postings on the main Web site for Hanh's main monastery in southern France calling for the government to disband religious police.
Vietnam formally recognizes less than a dozen religions, and they are all required to register with the state.
Hanh's followers have been asked to leave the Bat Nha monastery in the Central Highlands by early September.
Tensions at Bat Nha boiled over in late June, when a mob descended on the site with sledgehammers, damaged buildings and threatened the Plum Village monks and nuns. Authorities also cut off electricity at the site.
The dispute represents a remarkable turnaround from four years ago, when France-based Hanh returned to his native land after 39 years of exile. He had been forced out of what was then U.S.-backed South Vietnam in 1966 for criticizing the Vietnam War. His return in 2005 made the front pages of state-owned newspapers.
Hanh's brand of Buddhism is very popular in the West. Followers from around the world travel to his Plum Village monastery in southern France to study with him. He is perhaps the best known Buddhist after the Dalai Lama.
When Hanh's followers first came in 2005, Duoc said, Vietnamese authorities approved their activities. But since July 2008, he said, they have offered 11 courses at the Bat Nha monastery without permission.
Hanh's followers say they have kept the official Vietnam Buddhist Church fully informed.
They were invited to practice at Bat Nha by Abbot Duc Nghi during Hanh's 2005 visit and say they have since spent nearly $1 million expanding the property and adding new buildings.
Nghi could not be reached for comment, but Duoc says the abbot now wants the nearly 400 Hanh followers at the monastery to leave.
Hanh's followers believe Nghi is simply responding to pressure from above.
Duoc also said Tuesday that Vietnamese officials were "very surprised" by postings that appeared on the Plum Village Web site in February 2008. These included suggestions that Hanh made to President Nguyen Minh Triet during a 2007 visit to Hanoi, he said.
Among them was a proposal to abolish the Committee on Religious Affairs, disband Vietnam's religious police, and make modifications to the formal names of both the communist party and the state, known as the Socialist Republic of Vietnam.
"When we first saw that information posted on the Plum Village Web site, we thought it must have been a mistake," Duoc said.