Students earn Buddhist degrees
VNS, Sept 9, 2009
Ho Chi Minh City -- Almost 550 students who completed their Buddhism studies at the Viet Nam Buddhist University received their degrees in the presence of Buddhist dignitaries from several countries at a convocation ceremony held at Pho Quang Pagoda in Tan Binh District yesterday.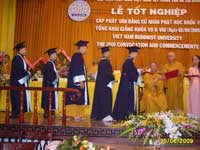 << Theravada scholars graduate in HCM City.
Viet Nam Buddhist University rector Thich Tri Quang hands out diplomas in a convocation ceremony at Pho Quang Pagoda in HCM City's Tan Binh District. — VNS Photo Ngoc Le
The visitors included His Holiness Dharmasen Mahathero, Buddhist Supreme Patriarch of Bangladesh, His Holiness Preah Tep Vong, Buddhist Supreme Patriarch of Cambodia, Most Ven Phra Theppariyattivimol, rector of Thailand's Mahamakut Buddhist University, and Most Ven Dr Bhikshu Satyapala, head of the Department of Buddhist Studies at India's Delhi University.
They were welcomed by Thich Tu Nhon, standing vice president of the Executive Council of the Viet Nam Buddhist Sangha (VBS) and other leaders of the VBS, members of the university executive council, students, their families, and Buddhist faithfuls.
Nhon conferred honorary doctorates on the visitors for their great contributions to peace, justice, improvement of people's spiritual life, and on Buddhism education around the world before handing out the degrees to the graduates.
The graduates were from six faculties – Buddhism in Pali language and Southeast Asia, Buddhism in Sanskrit and Tibetan languages, Chinese-Japanese-Korean Buddhism, Vietnamese Buddhism, World Buddhism and Buddhist Philosophy.
The Most Ven Prof Dr Thich Tri Quang, rector of the university, said the graduation rate varied from 85 to more than 90 per cent depending on the faculty.
Faculty of 70
Founded in 1983, the university, which has a faculty of 70, mostly with master's degrees and doctorates from abroad, trains students from all over the country from bachelor's to doctoral levels.
During their four years in the university, students studied the wealth of Buddhist sutras or texts, history, literature, philosophy, and foreign and ancient languages, Quang said.
"Since our degrees are internationally recognised, the graduates can apply for higher studies in India, China, Japan and Thailand, as well as western universities," he said, adding the university had tied up with institutions in India and Thailand.
Dr Thich Buu Chanh, vice rector and head of the Pali faculty, said that students learnt Pali to seek the original meaning of Buddhist teachings and to compare Pali sutras with today's translated versions given that the Buddha preached in Pali.
"It takes five more years of studies in India or Sri Lanka to understand all the Pali sutras," he said.
Thich Nhuan Dam, 27, a monk and student of Buddhist Philosophy from Tan Binh District's Bao An Pagoda, said his four years of studies were just the start of a long and intensive quest of the true meaning of Buddhism given that there was a myriad sutras with profound messages that could take years for him to unravel.
"Only when I apply what I've learned to my daily life can I make out their significance," he noted, adding he was preparing for further studies in Thailand.
Thich Nu Thong Tien, 30, a nun classmate of Dam, remarked that Buddhist Logic was a highly complex subject and that some concepts in classic sutras were "very hard to capture."
Tien, who already has a degree in Oriental Studies, said she planned to take a master's course in Taiwan before returning to her home province of Quang Ngai in central Viet Nam to continue her "life-long studies of Buddhist sutras and service to the faithful."
Do Trong Danh, 34, said he travelled with his parents from An Giang Province to celebrate his younger brother's graduation.
"We're happy that now he's successful and fulfilled his aspirations," he said, adding that his brother was an admirer of Buddhist teachings since very young.