Vietnamís not-so-simple eviction of Buddhist monks and nuns
by John Ruwitch, Reuters, October 5, 2009
Hanoi, Vietnam -- A government-backed mob in Vietnam about a week ago booted nearly 400 Buddhist monks and nuns out of a monastery in the centre of the country, bringing an apparent end to an ugly standoff with complicated origins.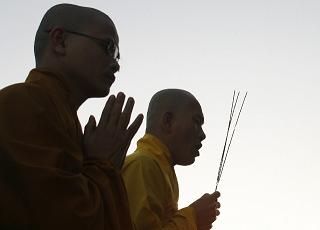 << Monks pray at Dong Pagoda northeast of Hanoi, 26 Nov 2008/Nguyen Huy Kham
The incident has raised questions about the ruling Communist Party's commitment to progress on religious freedom, but the Bat Nha Monastery narrative is much more complex than simply an "authoritarian government cracks down on the faithful" story.
Some of the basic facts seem pretty straightforward. For nearly three years, the monks and nuns had lived at Bat Nha monastery in Lam Dong province, largely with the blessing of the local authorities via cooperation with local Buddhists, after their leader, the Vietnamese-born, French-based Buddhist zen master Thich Nhat Hanh, visited Vietnam in 2005 for the first time in 39 years.
Last year, the local authorities started to put pressure on the followers of Thich Nhat Hanh's Plum Village school of Buddhism. In late June of this year, electricity, water and phone services to the monastery were cut and a mob attacked the group to try to evict them, but they refused to leave. In July, a smaller mob attempted another attack.
The government set Sept. 2 as a deadline for them to leave, but that date came and went. monks. Then, on Sunday, Sept 27, the group's overseas adherents reported that "an unidentified mob" of about 150 people, believed to include plain clothes policemen, violently evicted the 379 resident monastic followers of Thich Nhat Hanh.
The central government's line has been that local Buddhists wanted Thich Nhat Hanh's followers out of their monastery and the government had nothing to do with it. Asked about the incident, Foreign Ministry spokeswoman Nguyen Phuong Nga said in a statement it was "an internal issue between two groups of people following Buddhism at Bat Nha monastery. The dispute was non-violent, nobody was injured or detained."
But Thich Nhat Hanh's Plum Village followers said police were involved in the eviction. A local government document from last month obtained by Thich Nhat Hanh's followers and shown to Reuters stated that the group was not recognised by the state or the official Buddhist congregation and was staying at Bat Nha illegally.
The roots of the problem may go back, in part at least, to Thich Nhat Hanh's late 2007 visit to Vietnam. During that trip, he told Vietnamese President Nguyen Minh Triet that the government should abolish the arm of the police that tracks religious groups and disband the government's Religious Affairs Committee, which regulates religious activities.
Then, in early 2008, the annual journal of Plum Village proposed that the government abandon Communism, take the word Communist out of the name of the ruling political party and remove "Socialist" from the country's official name, Socialist Republic of Vietnam. Although the comments may have been made with the interests of the Vietnamese nation in mind, they were resented by the religious police who, from that point on, pretty much had it in for Thich Nhat Hanh and his followers, a Plum Village document detailing the background of the incident said.
The local Bat Nha abbot, Thich Duc Nghi, first welcomed the Plum Village followers, but later appeared to sour on the group. Whether he did so because of pressure from the authorities or for his own reasons is unclear. The Plum Village followers believe he and the head of the religious police teamed up to bring down the Plum Village congregation, or sangha. He has stopped making public appearances, said Hong Kong-based Plum Villager Thich Phap Kham.
It is interesting to note that President Triet was in Communist ally Cuba when the Bat Nha evictions happened, just after a trip to New York for a United Nations Security Council meeting and a General Assembly debate. At least least two trials of Vietnamese political dissidents scheduled to take place when Triet was due to be in New York were postponed, possibly so that they would not be irritants when he was on American soil. It is also worth noting that in 2004, Vietnam chafed when it was placed on the U.S. State Department's list of "countries of particular concern" on religious freedom, and took steps to be removed.
Two years later, before President George W. Bush visited Vietnam, the State Department took Vietnam off that list, citing progress. The State Department's 2008 human rights report on Vietnam issued this February noted improvements in respect for religious freedom, saying restrictions had been enforced less strictly than in previous years and participation in religious activities grew.
For now, the Plum Village monks and nuns are still crammed into Phuoc Hue temple in the town of Bao Loc where they have taken refuge. "We still do not know what will happen next, but the monks and nuns are determined to stay together to practice as a Sangha," Thich Phap Kham said.