Vietnam orders abbot to evict unofficial Buddhist group
Earth Times, Dec 14, 2009
Hanoi, Vietnam -- Vietnamese authorities have ordered the abbot of a pagoda to evict some 190 members of an unofficial Buddhist group who had taken refuge there, the abbot said Monday.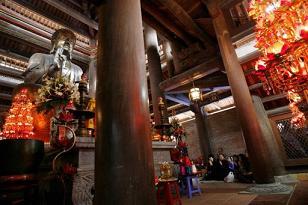 << Women pray in front of a Buddha statue at a pagoda in Soc Son district suburban Hanoi
"They asked me to evict the nuns and monks from the pagoda before December 31," said abbot Thich Thai Thuan of Thuoc Hue pagoda, in the south-central province of Lam Dong.
Thuan said he had met Friday with Duong Van Vien, deputy chair of the People's Committee in the town of Bao Loc, and Nguyen Thanh Tich, head of the religious committee.
The monks and nuns are followers of France-based Vietnamese Zen monk Thich Nhat Hanh. They fled to Phuoc Hue pagoda in October after police and mobs forced them to leave nearby Bat Nha monastery, where they had established a religious community three years ago.
Last week a mob of some 100 people surrounded Phuoc Hue pagoda for three days. The mob attempted to prevent a fact-finding delegation of EU diplomats from visiting the abbot on Wednesday.
"I have no choice but to sign a document saying the pagoda will ask the nuns and monks to leave," Thuan said. "If I don't ask them to leave, [the mob] will carry me away too."
"We don't know where we should go," Thuan Khanh, one of the nuns at the pagoda, told German Press Agency.
Almost 200 of his followers have been staying at Phuoc Hue since September when they fled their monastery at Bat Nha, also in Lam Dong province.
Followers said at the time they left Bat Nha after threats from people armed with hammers and batons.
"For the authorities, we are illegal," Trung Hai, a monk representing the group, said last month in Geneva.
A local government spokesman could not be reached for comment but a police chief in nearby Bao Loc town said: "I don't know anything about the situation in this pagoda."
In October a foreign ministry spokeswoman described the matter as an internal Buddhist dispute and denied that hundreds of people had been forced from Bat Nha.
A crowd first arrived at Phuoc Hue on Wednesday during a fact-finding visit by the European Union, witnesses said.
The delegation's visit followed a European Parliament resolution late last month which condemned the violent expulsion of the "peaceful Buddhist community". The resolution called on Vietnam to comply with its international obligations to allow the free practice of religion.
New York-based Human Rights Watch said Friday the Vietnamese government was showing "increasing contempt and lack of respect for basic human rights", and that the monks and nuns were victims of orchestrated violence.
"It's clear that the Vietnamese authorities are threatened by religious movements they perceive as challenging the party's authority," said Brad Adams, the watchdog's Asia director.
All religious activity remains under state control in Vietnam but the government says it always respects the freedom of belief and religion.