Spiritual tourism area to be built in Quang Ninh
VietNamNet Bridge, April 14, 2010
Quang Ninh, Vietnam -- More than VND2.6 trillion (US$130 million) will be invested in a new Buddhist tourism area in the northern province of Quang Ninh, announced the investor, ATS Real Estate Investment Joint Stock Company and the Management Committee of the Vietnamese Buddhist Sangha on April 10.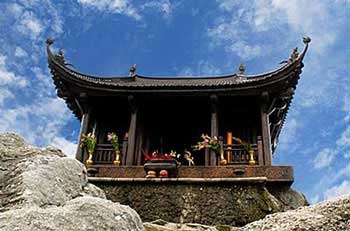 << Yen Tu cultural historic relic site.
40,000 pilgrims attend Yen Tu festival's opening ceremony
Known as Sen Viet (Vietnamese lotus), the area will be located on Quang Ninh's sacred land of Yen Tu and open to the public.

The project, to be located at the border of Uong Bi Town and Dong Trieu District, 10km from the Yen Tu Buddhist relic, will be divided into two parts.

The first will be the Sen Vang (Golden lotus) covering an area of 472 hectares around Yen Trung Lake.


The second part will consist of Sen Bac (Silver lotus) and Sen Dong (Bronze lotus), which will be situated along a route leading from National Road No.18 to the Yen Tu cultural historic relic site. These two sites will cover a total area of 164 hectares.
Nearby hotels and tourism services will be built in accordance with Buddhist architecture and style.
According to Superior Buddhist monk Thich Thanh Quyet, head of the Management Committee of Quang Ninh Buddhist Sangha, the Sen Viet tourism area will not negatively affect the sacred land.
In addition to the Sen Viet project, other plans are in the works to enhance the area including casting a 100-ton statue of King-Monk Tran Nhan Tong and upgrading the Hoa Yen Pagoda.
Yen Tu, the Buddhist capital of Vietnam, is famous for its beautiful landscapes, historic relics and ancient pagodas. Thus, it holds a special place in the hearts of many Vietnamese, said Superior Buddhist monk Thich Thanh Tu, deputy permanent chairman of the Management Committee of Vietnamese Buddhist Sangha.