Monk returns home, one pagoda at a time
By Ben Stocking, Mercury News Vietnam Bureau, April 2, 2005
Famous Buddhist had been banned from Vietnam
HANOI, Vietnam -- Live in the present. Focus on each breath. Find beauty in small things. Thich Nhat Hanh has spent 2 1/2 months visiting pagodas across his homeland, spreading the simple wisdom that has made him perhaps the world's most famous Buddhist monk after the Dalai Lama and a popular figure in the Bay Area.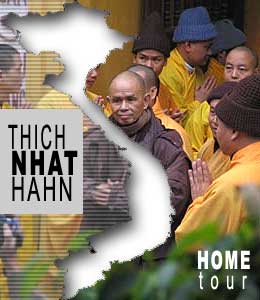 His homecoming has been extraordinary -- not because of anything the celebrity monk has said or done, but simply because it happened at all.
Hanh had been shut out of Vietnam for 40 years. His passionate opposition to the Vietnam War once earned him a Nobel Peace Prize nomination from the Rev. Martin Luther King Jr., along with the enmity of the former South Vietnam. Vietnam's current communist government, which exercises tight control over religious and civic organizations, also has regarded him with deep suspicion.
Hanh's return has drawn a contingent of his followers from around the world, from San Jose to London to Lisbon.
Some observers believe that the 79-year-old monk's visit represents a growing openness on the part of the Vietnamese leadership. Others see it as a public-relations exercise by a government determined to soften its image as one of the world's worst violators of religious
freedom. Still others think it is a little of both.
For his part, Hanh has seemed determined to avoid stirring up political sensitivities during his visit, which ends April 11.
``My intention is to help the Buddhists in my country renew the teaching and the practice in order to help people transform and heal,'' said Hanh, who has drawn large crowds at many of his stops. ``Buddhism should renew itself in order to meet new needs.''
About 50 percent of Vietnamese are Buddhist, by far the largest faith in the country. Although the crowds at Vietnam's pagodas are dominated by older women, Hanh hopes to reach out to a broader cross-section of the population -- especially to the young.
`Wonderful moment'
Hanh has traveled from Hanoi to Ho Chi Minh City to Hue and back, going from pagoda to pagoda and urging his compatriots to relish every moment of every day. He preaches the message of ``mindfulness'' that has made him a bestselling author in the United
States.
``Mindfulness'' boils down to focusing on the here and now, unburdened by thoughts of the past or future. It requires bringing body and mind into harmony, using meditative techniques as simple as focused breathing.
``Breathing in, I become aware of the present moment,'' Hanh told a crowd of about 600 people at Hanoi's Melia Hotel last week. ``Breathing out, I become aware this is a wonderful moment.''
``Present moment,'' he said, pausing to ring a brass bell.
``Wonderful moment.''
His official entourage consists of about 100 monks, who, like Hanh, shave their heads and wear brown robes. Hailing from 25 countries, they live at Plum Village, Hanh's monastic community in France, about 50 miles east of Bordeaux (www.plumvillage.org).
Among them is Phap Uyen, 31, a Vietnamese-American and former U.S. Marine who was born in Ho Chi Minh City but grew up in Santa Barbara.
``This trip gives us a chance to connect with Vietnamese Buddhists and reconnect with our religious roots,'' Uyen said.
From San Jose
Some of Hanh's more ardent lay admirers have followed him from the West to witness his homecoming. They have come from dozens of countries, including England, Germany and the United States.
Truong Chu Trong, a 51-year-old landscaper, came all the way from San Jose.
``It's very emotional to see him here,'' said Trong, who left central Vietnam 11 years ago for the United States. ``The master is very, very smart. He's a talented monk.''
Hanh has an intense following among many Westerners, including many from the Bay Area. His appearances at the Spirit Rock Meditation Center in Marin County typically draw at least 2,000 people, said Jack Kornfield, a Buddhist teacher and founder of the center.
``He has a way of expressing some of the most important Buddhist teachings in a simple and poetic form that anyone can understand,'' Kornfield said.
And although he sometimes is received like a rock star, Kornfield said, Hanh remains humble. ``His deepest orientation is his inner life of wisdom and compassion,'' he said. ``That kind of saves him from just going around and being a celebrity.''
Among Vietnamese-Americans, Hanh is not universally popular.
``Their feelings about Hanh range from outright hatred to saint-like respect,'' said Henry Nguyen Huu Liem, a professor of philosophy at San Jose City College.
Many ardent anti-communists have not forgiven him for his anti-war stance, and they believe that by returning to Vietnam he is boosting the communist government, Liem said.
Hanh's return comes not long after the United States, which has criticized Vietnam's human rights record for years, labeled the nation a ``country of particular concern'' because of its violations of religious freedom.
Whether that designation paved the way for Hanh's return remains unclear, but one former U.S. diplomat who was based in Hanoi believes it probably factored into the government's decision.
``They would like to get off that list,'' he said. ``And having an internationally respected Buddhist cleric helps the government in terms of its PR, vis-a-vis the United States and European countries.''
Wednesday, Hanh met with one of Vietnam's best-known dissidents, Thich Huyen Quang, the leader of the outlawed Unified Buddhist Church of Vietnam, a sect separate from Hanh's.
Hanh said he hoped to promote understanding between the communist government and Quang's church, which have been at odds for decades.
``We want to practice looking deeply and listening deeply to every side in order to get closer to the truth,'' Hanh said.
Hanh gently chided the government for restricting his appearances to small pagodas rather than large auditoriums. But he praised officials for finally letting him come home and for allowing at least some of his books to be published in Vietnam.
Prime Minister Phan Van Khai received Hanh at his office last week.
``To open the country for me to go home, that is an effort,'' said Hanh, who has visited his home province of Thua Thien-Hue in central Vietnam.
Three decades after the war, Hanh said, it is natural that suspicions linger. Many plainclothes police officers have attended his talks.
``I want to take this opportunity to behave in a way that can decrease the fear,'' he said. ``I don't want to create more division and hatred.''