Prayers and good deeds for Wesak Day in Malaysia
The Star, May 18, 2011
GEORGE TOWN, Penang -- Buddhists from all walks of life flocked to temples and association premises to offer their prayers for Wesak Day.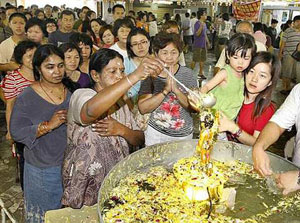 << Cleansing ritual: Ardent devotees taking turns to bathe the Buddha statue at the Malaysian Buddhist Association's premises in Burmah Road, Penang, Tuesday.
Thousands went to the Malaysian Buddhist Association (MBA) to worship Buddha on the auspicious day commemorating his birth, enlightenment and passing.
The devotees queued and took turns to bathe the Buddha statue, a ritual which represents cleansing and purification.
Devotees inside the shrine hall were also seen lighting lotus-shaped candles and seeking Buddha's blessings.
Vegetarian food and drinks were served to devotees and well-wishers.
At the Penang Buddhist Association, various activities that were lined up for the celebrations included a dharma lecture, the chanting of sutras and hymns, charity sales, bathing of the Buddha statue and donations to the underprivileged.
Its float committee chairman Lee Boon Hoe said the association put together a beautiful float with blossoming flowers to take part in a procession.
In KUANTAN, over 10,000 devotees and visitors thronged the Wan Fo Tien temple at Jalan Bukit Ubi for the Wesak Day celebration.
Pahang Buddhist Association adviser Venerable Sik Ji Xing and two reverends from Sri Lanka led the prayers.
Sik urged devotees not to harbour anger and resentment towards fellow human beings as Buddhism did not discriminate race and religion.
Civil servant Shahlinee Vijayakumar, 25, who visits the temple every Wesak Day, said she considered it a special occasion.
Royal Malaysian Air Force technician Velan Vadivelan, 32, is a Hindu but he joined in the line to bathe the Buddha statue as well with his family.
"Praying to Lord Buddha is a spiritual thing. I visit the temple on my days off, too," he said.
In Malacca, all eyes were focused on saree-clad Chinese lasses who turned the Wesak Day celebration here into a truly 1Malaysia scene.
Dozens of the young women, donning vivid and intricately designed sarees, accompanied the 5km Wesak Day procession organised by the Seck Kia Eenh Temple here, where floats bearing Buddha statues started their journey from Jalan Gajah Berang at about 7pm.
Devotee Yeap Kuan Meng, 24, said she decided to wear a saree during the procession to manifest her 1Malaysia spirit.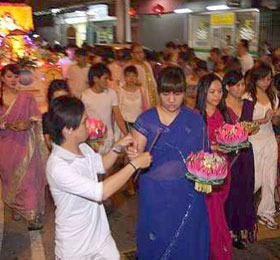 << Cultural touch: Chinese girls in colourful sarees taking part in the procession at the Sek Kia Eenh Temple during a candlelight procession in Malacca in conjunction with Wesak Day Tuesday.
"Furthermore, Wesak Day is celebrated globally and I thought, why not wear a saree for a change on this auspicious occasion," she said.
Yeap said she learned to tie the saree from her sisters-in-law, who are Indians, and she now wears the traditional Indian outfit when attending events.
"Surprisingly, I saw many other young women wearing sarees during the procession," she said.
Some 5,000 people joined the colourful procession that covered several areas including Jalan Tun Perak, Jalan Tun Ali, Jalan Mutahir, Jalan Tun Sri Lanang, Jalan Bendahara, Jalan Laksamana, Lorong Hang Jebat, Jalan Tun Tan Cheng Lock and Jalan Tengkera.
Malacca's Wesak Day celebration by the temple is listed in the country's tourism calendar as one of Malaysia's religious tourism programmes.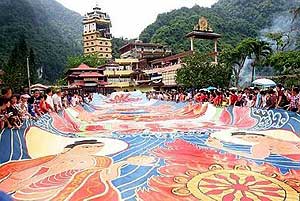 << Powered by the sun: Members of the Enlightened Heart Buddhist Centre in Tambun, Ipoh celebrating Wesak Day by unfurling a giant canvas painting of Buddha in front of the temple Tuesday. The traditional practice of spreading out the huge painting is done to 'draw power' from the sun. - RONNIE CHIN / The Star
Several other performances such as the lion and dragon dance, Sri Lankan peacock ceremonial dance and Thai cultural show made it a mesmerising and splendid event.
Malacca Chief Minister Datuk Seri Mohd Ali Rustam and other state dignitaries graced the event.
In IPOH, hundreds of devotees congregated at the Enlightened Heart Buddhist Centre in Tambun to unfurl the thangka, a giant canvas painting of Sakyamuni Buddha.
The painting, measuring 60m by 12m, was carried into the temple compound by devotees at noon. The traditional practice is said to "draw power" from the sun.