Malaysian state government to host Wesak celebrations
The Buddhist Channel, June 2, 2011
Shah Alam, Selangor (Malaysia) -- A historic and ground breaking event for the Malaysian Buddhist community will take place on Sunday, June 5, 2011 when Malaysia's richest, most advanced state of Selangor officially hosts the state level Wesak celebration.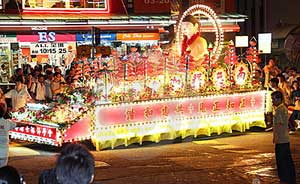 This is the first time on record that any state or federal government has ever organized and hosted an official function in conjunction with Wesak Day since the country's independence.
Event organisers have informed the Buddhist Channel that this celebration is held to recognize the Buddhist community's contributions towards Selangor and for being the second largest religious community in the state (after Islam).
The event which takes place at the Jubli Perak Auditorium, Bangunan SSAAS, Shah Alam, will be graced by the Menteri Besar (Chief Minister) of Selangor, the Selangor State Assembly Speaker, State Exco members, elected representatives, government officials and Buddhist community leaders.
Officially, the first full-moon day of May is designated as Wesak Day which is a public holiday in Muslim majority Malaysia. Wesak commemorates the three important events in the life of the Buddha - His Birth, Enlightenment and Passing Away.
These events took place on the full-moon day in the lunar month of Vesakha, which falls between April and May in the conventional calendar. Amongst Buddhists, it is also known as Buddha Jayanti - the Birth of the Enlightened One. The year 2011 marks the 2,600th Anniversary of the Buddha's Enlightenment.
Wesak has been declared as a public holiday in Malaysia since 1962, in recognition of Buddhism being the religion with the second largest following in the country. Today, Malaysian Buddhists makes up about 19% of the population.
The program during the celebration includes performance by some of the popular Buddhist performing groups in the country which includes Messengers of Dharma, i.gemz, Bodhi Group, One Voice One Melody and Mahindarama Sunday Pali School. Dances will be presented by the internationally acclaimed Dua Space and the Temple of Fine Arts. The FoGuang San 24 Seasons Drum Troupe will also be performing.
If you go
What: Wesak celebration, organized by the State Government of Selangor
Where: Jubli Perak Auditorium, Shah Alam, Selangor DE, Malaysia
When: 7.00 pm, 5th June 2011
This event will be officiated by the Dato' Menteri Besar of Selangor; Y.A.B. Tan Sri Dato' Seri Abdul Khalid bin Ibrahim. Admission to this celebration cum concert is free of charge. Members of the public are advised to arrive early as general seating's are on first come first serve basis. No dinner will be served but light vegetarian food will be served after the performances ends about 9.45pm.