No peace at the temple
by Hafizah Hoze Rizal, The Star, June 28, 2011
40 robberies, six fires - and 31 ignored appeals for relocation
Setapak, Malaysia -- ROBBED more than 40 times. Experienced six fires. Electricity and water supply constantly interrupted.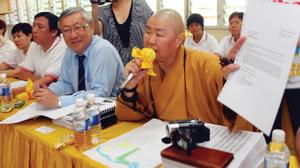 << NOT CONDUCIVE: Miao You Buddhist Temple wants to move to a better place because of its many problems. Sim Woo, accompanied by temple officials, showing an appeal letter for relocation
These are some of the things the Miao You Buddhist Temple in Setapak has had to endure for the last 23 years.
Despite 39 police reports lodged on the robberies, security has not improved, said the temple's sifu, Master Sim Woo.
He said more problems cropped up when the temple society applied to the Federal Territories and Urban Wellbeing Ministry for the temple to be relocated and rebuilt.
Temple 3
"We have applied 31 times but there has been no approval," said Sim Woo. "Other places of worship which applied much later than us have been relocated. Why are we never considered? This is unfair."
He said the need to relocate had become even more urgent as the land which the temple was built on had been converted into private land.
On top of that, the 64- year-old temple now has a huge illegal dump site opposite it. Stray dogs and drug addicts are a common sight in the vicinity, he said.
"We need a new and better place which is more conducive for our worshippers to conduct religious activities."
On June 21, the temple society met Deputy Federal Territories and Urban Wellbieng Minister Datuk M. Saravanan, who promised to give an answer yesterday concerning the relocation request.
However, Saravanan could not attend the meeting with the temple society but sent his representatives instead.
"Our society was asked to send in another appeal for relocation to the ministry," said Sim Woo.
"We have been waiting for many years and hope the matter will be resolved without further delay."
In April 2009, Saravanan, together with 20 officers from Kuala Lumpur City Hall and the Federal Territories Land and Mines Office, met the temple society, which had collected 10,000 signatures from the public to defend the temple from demolition.