Record-breaking Buddhist scripture recitation
by Jamie Khoo, The Buddhist Channel, July 1, 2011
Petaling Jaya, Malaysia -- Kechara House Buddhist Association in Malaysia will attempt to make it into the Malaysian Book of Records for a 24-hour recitation of the Lamrim Chenmo, a central text in Buddhist study, on July 2 – 3 2011.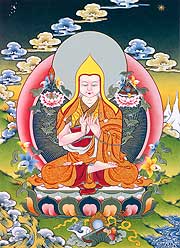 << Tsongkhapa, the author of the Lamrim, combined teachings from all existing schools of Buddhism and the Indian masters, to compose this comprehensive and central Buddhist text.
The first event of its kind in the Buddhist community of Malaysia, this recitation is a part of a larger activity being organised by Kechara House, to achieve 8,000 recitations of this highly significant text.
This Lamrim retreat was personally recommended by Kechara House's Spiritual Guide H.E. Tsem Tulku Rinpoche and will actually commence at 8pm on Monday June 27. The 24-hour recitation event will then be the culmination of the week's efforts. Further week-long retreat sessions will be organised throughout the next two years, to achieve the total count of 8,000.
Written by highly revered and renowned Tibetan Buddhist Saint, Lama Tsongkhapa, the Lamrim, is a systematic, deeply penetrative piece of writing that contains the full scope of Buddhist teachings and much practical, relevant advice for the modern individual seeking peace and wisdom.
H.E. Tsem Tulku Rinpoche has also sharde a very comprehensive explanation about the Lamrim and the benefits of reciting the Lamrim on his personal blog, blog.tsemtulku.com: "The Lamrim text is immensely beneficial. Even reciting Lamrim blesses one's body, speech, mind, environment, possessions, and Dharma practice. The sound of the Lamrim penetrating one's own being and the environment plants the seeds of all the qualities of the Buddha within oneself.
"If one studies the Lamrim thoroughly, it encompasses the full teachings of the Buddha fully condensed into one book. Remember Buddha gave 84,000 teachings during His lifetime. Studying and practicing the Lamrim will bring one to higher states of mind, collect tremendous merits, correct erroneous thinking on life and bestow great accomplishments."
Further explanations by Tsem Rinpoche and pictures can be read here: http://blog.tsemtulku.com/tsem-tulku-rinpoche/kechara-13-depts/lam-rim-retreat-to-be-in-book-of-records.html

Kechara House is inviting all interested Buddhists to join in this activity. All participants can come for as long as or as short a duration as they prefer (they do not have to stay the entire duration of 24 hours). However, participants who attend the event for at least eight hours will also receive a certificate from the Malaysian Book of Records and their names will be featured within the book itself.
International friends from around the world are also welcome to join the retreat. More information on how to participate is available on Tsem Rinpoche's blog post.
Please visit http://www.kechara.com/kechara-house/events/recitation-of-a-sacred-text/ for more information about the retreat and how to participate.