Ancestor worship goes hi-tech
By WINNIE YEOH, Photos by GOH GAIK LEE, All Malayisa, June 21, 2012
Penang, Malaysia -- Ancestor worship prayer has gone digital with a Buddhist temple in Bayan Lepas putting up two 50-inch LCD screens to display names of the deceased.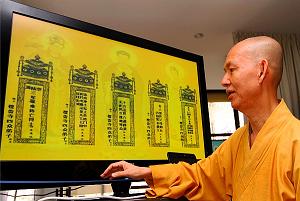 << Modern method: Than Hsiang Temple abbot Ven Wei Wu showing the digital ancestral tablets on a 50-inch LCD screen
The LCD screens are set up on both sides of the prayer hall displaying ancestral tablets to replace traditional ones.
The traditional way of ancestor worship is where names are written on pieces of paper and pasted on a wall.
The slides on the screen change every three seconds to display different names and the digitalised ancestral tablets take the form of lotuses which float towards the palm of Lord Buddha to symbolise the deceased having a rebirth in the Pureland of Buddha.
Than Hsiang Temple
Ven Wei Wu said the temple decided to launch the digital version of the worship prayer this year in a move to protect the environment.
"In the past, about 1,000 pieces of A4 size papers would go up in flames after the prayer sessions.
"We're not against tradition but we have to do our part in protecting the environment.
"The temple also prohibits burning of joss sticks, joss papers and candles," he said when met at the temple recently.
Ven Wei Wu also said the temple offered devotees LED rechargeable candles as it is not only environmental friendly but also safe.
Buddhism
He also said some traditions have certain values but most times, people blindly followed tradition without fully understanding its meaning.
The temple is believed to be the first in the country to launch the service and its first trial session on April 1 during the Qing Ming Festival puja was well-received by devotees.
Ven Wei Wu said although people were initially hesitant but most had adopted the idea.
He said the digital method doesn't require a special software and the slides could be done with Microsoft PowerPoint.
Ancestor worship prayers are held twice a year at the temple, the first during the Qing Ming Festival and the other one during the seventh lunar month.
For details, call the temple at 604-6414822