Samadhi Vihara opens in the capital of Selangor
The Buddhist Channel, March 20, 2013
Opening made in conjunction of the Buddhist Missionary Society of Malaysia's (BMSM) 50th anniversary.
Shah Alam, Selangor (Malaysia) -- The traditional Malay gong was hit three times by VIPs, an occasion witnessed by a host of monks, and a 200 strong audience. They had gathered inside the lotus sculptured hall, and together rejoiced at the official opening of the Samadhi Vihara in Bukit Raja, Shah Alam, Selangor.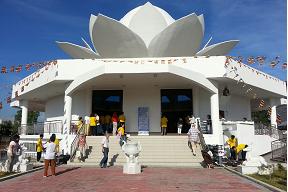 << Samadhi Vihara in Shah Alam, Selangor. A project 20 years in the making is finally realized on March 17, 2013. Pic courtesy of Mok Medha.
For many old timers from the Buddhist Missionary Society of Malaysia (BMSM), the road to realising Samadhi Vihara had been a long and arduous one. Twenty years to be exact.
Construction of Samadhi Vihara began sometime in the 1990s, on a piece of land allocated by the Selangor State Government.
On Sunday, 17 March 2013, the launching fulfills a lifelong dream for many and the centre is well placed to serve the growing Buddhist population within the Klang Valley.
This launching also coincided with the eve of the birthday of the late Chief Ven. Dr. K Sri Dhammananda, who founded Buddhist Missionary Society in 1962.
At the launching, speeches were made by Dato Chee Peck Kiat, President of BMSM, Dato Ang Choo Hong, Lay Advisor of BMSM, and Venerable Mahinda, the Spiritual Advisor.
The opening was officiated by YB Dato' Teng Chang Khim, Speaker of Selangor State Assembly, representing YAB Tan Sri Dato Seri' Abdul Khalid Ibrahim, Menteri Besar (Chief Minister) of Selangor. He gave a contribution of RM10,000 in addition to RM50,000 allocated by the State Government.