Malaysian Buddhists celebrate Wesak Day
By EDMUND NGO, BEH YUEN HUI and QISHIN TARIQ, The Star, May 24, 2013
KUALA LUMPUR, Malaysia -- Visitors came as early as 7am to the Buddhist Maha Vihara here to commemorate Wesak Day on Friday.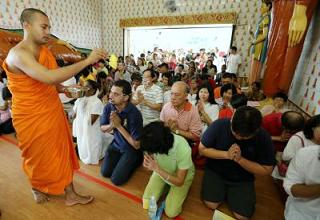 << Devotees at the Buddhist Maha Vihara in Kuala Lumpur performing prayers on Wesak Day.
Devotees presented flowers, lit candles, sought blessings and made offerings to the monks to commemorate the birth, enlightenment and death of Buddha.
Ng Chun Hoe, a 54-year-old volunteer of the Friends of the Vihara, said the spirit of giving was very important to him as he was happy seeing people smile and hungry folk fed.
The manager of an insurance company recounted seeing a boy picking up unlit firecrackers during Chinese New Year some 30 years ago.
"The child's family was very poor, he had no toys and barely enough food to eat, so he ended up playing with a dangerous item," said Ng, adding the episode led him to help the needy ever since.
Tents selling offerings, candles, flowers, balloons, lotus buds, food and beverages as well as booths recruiting volunteers were set up inside and along the road leading to the temple in Brickfields here.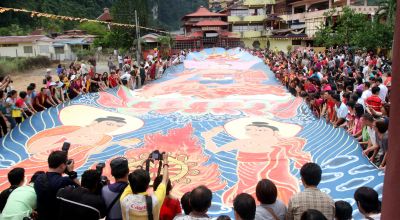 << The thanka, a giant canvas painting of Sakyamuni Buddha, is unfurled at the Enlightened Heart Buddhist Centre in Tambun.
Over in IPOH, hundreds of devotees unfurled a thanka - a giant canvas painting of Sakyamuni Buddha - at the Enlightened Heart Buddhist Centre in Tambun.
It is a traditional practice to unfurl the thangka in the temple compound to draw power from the sun.
Devotees also ran under the 60m by 12m canvas to receive blessings from Buddha.
Meanwhile, in PETALING JAYA, DAP adviser Lim Kit Siang called an end to race politics and ease escalating racial polarisation.
"My wish on Wesak Day is for all leaders, starting with the Prime Minister (Datuk Seri Najib Tun Razak), to walk the talk of their Wesak Day messages.
"I urge Najib to show leadership by example in his call to the people to set aside their differences at all levels of society," he said in a statement here Friday.
He challenged Najib to demonstrate his political will and ease escalation of racial polarisation and for Barisan Nasional component parties to open their membership to other races to make them Malaysian-based and not raced-based.
Lim also wished all Buddhists in Malaysia a happy and enlightening Wesak Day and non-Buddhists a happy holiday.
"The best way to celebrate Wesak Day is to truly and sincerely strive to follow his teachings, reiterate the determination to lead noble lives, develop the mind, practice loving kindness and bring peace and harmony to humanity," he said.