Former Malaysian PM lends support for families of missing airline MH370 passengers, as interfaith prayers held at airport
The Malaysian Insider, March 9, 2014
Kuala Lumpur, Malaysia -- Former Malaysian Prime Minister Tun Abdullah Ahmad Badawi has urged the families of passengers of the missing Malaysian Airline (MAS) flight MH370 to stay strong.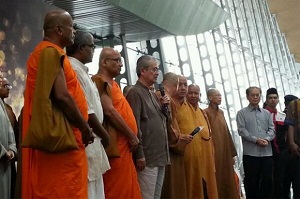 << Abdullah Badawi (centre), a Muslim, sharing the stage with Buddhist monks before the interfaith prayers commenced at KLIA today. - Reuters pic, March 9, 2014.
"What has happened is indeed tragic and I am made aware that the search and rescue team, as well as the authorities, are working very hard to resolve this issue.
"Extensive time and work has been put into this and we are all hoping to hear some good news soon," The Star Online reported him as saying after attending "hajat" prayers at the Kuala Lumpur International Airport (KLIA) today.
Abdullah added that approximately 40,000 people had gathered at the Putrajaya mosque to pray for the passengers and their families.
"Hopefully, all these prayers channel positive energy for the passengers to return safely.
"In the meantime, we ask of everyone to be patient while the authorities find a way to sort this out," he said.
Following Abdullah's speech, an interfaith prayer session was held for the safe return of the passengers. The session - attended by Buddhists, Christians, Hindus and Muslims groups - was conducted at the KLIA departure hall.
Organized by Young Buddhist Association of Malaysia, both Bhikkhu and Bhikkhuni members from Theravada and Mahayana tradition was present to offer prayers, including Ven. Datuk K Sri Dhammaratana, Ven. Datuk Seck Jit Heng, Ven. B Sri Saranankara, Ven. Chang Chao, Ven. Jue Cheng and Ven. Chuan Wen.
MAS flight MH370, carrying 227 passengers, including two infants, and 12 crew, went missing en route from Kuala Lumpur to Beijing about an hour after taking off from the KL International Airport at 12.41am Saturday.
It should have landed in Beijing, China at 6.30am on the same day.