A greener, more meaningful event to mark Wesak Day
by Christina Low, The Star, May 13, 2014
Petaling Jaya, Malaysia -- SOME Buddhist temples are trying to ensure that this year's Wesak Day will be a greener event by building their own floats with recycled materials and by not using disposable utensils.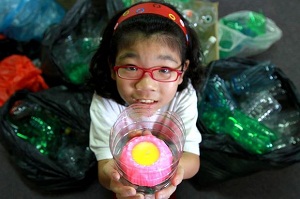 << Reuse and reduce: Juliet Wong Ming Sze, 10, shows a cut-out plastic bottle made by students of the Buddhist Institute Sunday Dhamma School in Brickfileds to hold lotus candles.
Sri Lanka Buddhist Temple deputy chief monk Rev Siriwimala said Wesak should be a day to focus on Buddha and his teachings.
"Wesak is a day where we commemorate his birth, enlightenment and death but we should also take time to thank Mother Nature for what she has given us,
"We will not play loud music as we want to create a more peaceful environment for devotees," he said.
The temple decided to cut costs by making the procession floats themselves instead of paying outsiders to construct them.
"Our floats used to be very big and they came with a generator set and thousands of light bulbs, but after the Wesak procession we did not know what to do with the used bulbs and storing them was also a problem," he said.
The temple in Sentul started their eco-friendly drive last year by incorporating as many recyclable materials as possible for Wesak.
To make the floats, the temple used timber and other materials left over from the construction of their multipurpose hall.
"Instead of throwing away all the wood, the monks and a group of devotees worked together to build six different floats for the Wesak procession," he said, adding that the temple used to spend between RM30,000 to RM70,000 on floats before.
The monks said they enjoyed working on the project with devotees, making the celebration a more meaningful affair.
Free vegetarian meals prepared by Sri Lankan cooks will be served at the temple today till late at night but the food waste which comes after the event is always a concern.
Last year, the temple had stopped using polystyrene and paper plates, replacing them with melamine plates which need to be washed.
"It would be great if more devotees bring their own food containers. You can eat here and also bring food home," said Rev Siriwimala.
For the past three years, Dhammaduta Development Youth (D2Y) has been working closely with NGO Treat Every Environ-ment Special (TrEES) to find an environmentally-friendly solution for the Buddhist Maha Vihara in Brickfields, Kuala Lumpur.
"We have so many people coming into the temple and at the end of every Wesak, there will be loads and loads of rubbish," said Sasana Abhiwurdhi Wardhana Society president Sirisena Perera who helps coordinate the events on Wesak Day.
Perera said D2Y had been working towards getting more people to recycle.
They had previously collected more than 510kg of carton boxes, 25 sacks of candle wax, half a barrel of oil and eight trash bins of vegetable waste.
This year, he said food packs would be distributed in biodegradable boxes while holy water will be distributed in smaller bottles.
"We used to distribute holy water in mineral water bottles but stopped after seeing people treating it like ordinary drinking bottles.
"Some bottles were also found strewn all around the temple," he said, adding that devotees should treat the containers with more respect.
Perera also said tonight's procession float would be smaller with a reduced budget of RM25,000. "We are looking into switching to LED lights so we can reuse them next year," he said.
The temple will be serving authentic Singhalese fare throughout the day.
Rupavathy De Silva, who oversees the kitchen's operations, said she would be filling 10,000 food packs.
She hopes devotees will not waste the food.
"Don't take the food packs if you do not want to eat, you may be depriving others of a meal," said the 70-year-old whose speciality includes Singhalese-style curries, milk rice and thosai.
Students of the temple's Buddhist Institute Sunday Dhamma School are also joining in the environmental effort by selling lotus candles with a holder made of recycled plastic bottles.
The students had collected the bottles from family and friends earlier before spending the weekend cutting the bottles into various shapes.
The candle holders, which comes together with a lotus candle, will be sold for the Wesak procession and funds collected will go to the school.
The Wesak procession will begin at 7pm, starting at the Buddhist Maha Vihara in Brickfields, Kuala Lumpur.
Devotees will walk the 9km route from the temple on Jalan Berhala to Jalan Sultan Abdul Samad, turning into Jalan Tun Sambanthan, Jalan Tun Tan Cheng Lock heading towards Central Market and then, making a turn into Jalan Petaling. The procession continues onto Jalan Yap Ah Loy, Jalan Hang Lekiu and Jalan Gereja before turning back to Jalan Raja Chulan, Jalan Tun Perak, Jalan Tun Tan Cheng Lock, Jalan Tun Sambanthan and back to the temple.
They will not be passing by Jalan Bukit Bintang this year due to the ongoing MRT construction work.