Buddhist Gem Fellowship (BGF) inaugurates its new building while ushering in 25 years of service
The Buddhist Channel, March 10, 2015
Petaling Jaya, Selangor (Malaysia) -- A significant and historic moment in the Buddhist Gem Fellowship's 25 year journey of Dhammaduta Service to the Community was recorded on March 7, 2015, by way of the inauguration of it's headquarters located at PJU, Petaling Jaya. The event was attended by local and international Buddhist monks and nuns, leaders, organizations, members, donors and well wishers.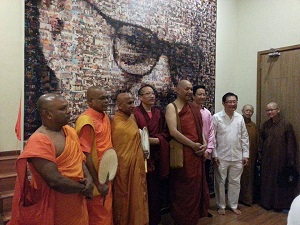 << BGF President Datuk Seri Dr Victor Wee (third from right) and guest of honours witnessing the unveiling of the Venerable Dr K Sri Dhammandanda photo montage
Guest of Honour, Dato' Teng Chang Khim, an executive committee member of the state of Selangor together with BGF's President, Datuk Seri Dr Victor Wee, Venerable Bhikkhu Sanghasena (from Mahabodhi Centre of Ladakh, India), Venerable Henbunne Kondanna Nayaka Maha Thera, Venerable A. Ratanasiri Nayaka Maha Thera, Venerable Khenpo Jampal Dorjee, Venerable Sing Kan lent witness to this historic milestone.
A pictorial montage of the much beloved late Teacher, Venerable Dr K Sri Dhammandanda - made from a large collection of personal and Dhammaduta photos - was unveiled as well.
About Buddhist Gem Fellowship (BGF)
The Buddhist Gem Fellowship - or more affectionately known as BGF - started off as an informal organization in the 1980's, with an initial aim to promote the growth of Buddhism in Malaysia. It began as a "Graduate Fellowship" but changed the name to "Gem" to look into the growing needs of the Buddhist community at large.
Every year thousands of young Buddhists graduate from universities and colleges. Unfortunately their talents go untapped, resulting in a drain of resources and a big loss to the Buddhist community. Without new ideas and involvement from young graduates, Buddhist societies could only run routine activities that attract small crowds. BGF was formed primarily to redress this issue.
Its purpose was to gather young graduates as well as working professionals to foster spiritual friendships and enhance their knowledge and skills for Dhamma work. Since then, BGF has grown from strength to strength and embraces all groups by staking a non-sectarian approach, while maintaining its roots in the Pali Tradition.
Mission and programmes
BGF plays a pivotal role in bringing about the "Transformation of the Malaysian Buddhist community". Its motto is "Growing People, Inspiring the Future".
For over a quarter century, BGF has been nurturing Buddhist leaders. It organises many programs with impact on Buddhist communities within the country as well as internationally. BGF also organises camps for undergraduates, train leaders to speak effectively in public, runs courses on counselling skills, and conducts training courses for Dhamma speakers.
It runs weekly meditation sessions and organizes talks and public forums by local and international Dhamma speakers. Its innovative programs and approaches are adopted by other groups within as well as outside the country. Many of its early members have pioneered the formation of other Buddhist societies in the country.
For more information, please visit: www.bgf.org.my