Buddhist Gem Fellowship and Buddhist Business Network collaborates to offer "Buddhist Entrepreneurship Development Programme"
The Buddhist Channel, March 11, 2015
Petaling Jaya, Selangor (Malaysia) -- Buddhist Gem Fellowship (BGF) and the Buddhist Business Network (BBN) are collaborating to offer the "Inaugural Master Classes" for entrepreneurs. The programme aims to increase entrepreneurial opportunities, covering the entire venture creation process, from generating ideas to building viable global business.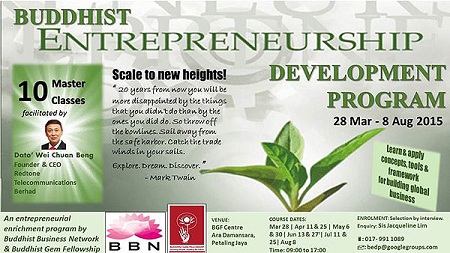 The programme shall be facilitated by Dato' Wei Chuan Beng, the Founder and CEO of Redtone Telecommunications Berhad – a very successful entrepreneur himself. Also invited are successful entrepreneurs as specific topic speakers.
The programme includes lectures, interactive sessions and case studies by successful entrepreneurs. It is designed as such so that participants will be exposed to ideas and context which enable entrepreneurs and those involved in the entrepreneurial environments to create and launch successful new ventures based on innovative technologies.
There will also be opportunities for participants to enhance and expand networks with entrepreneurs from various industries.
Interested participants are encouraged to submit their application by March 15, 2015. The enrolment selection however requires participants to successfully pass an interview.
Founder of startup companies, current or would-be business owners who aspire to doing well by doing good as their path to succeed are encouraged to attend. Those with a mindset geared to helping and guiding others while steering their business to success are welcomed to apply.
If you attend
What: Buddhist Entrepreneurship Development Programme
When: Mar 28th | Apr 11st & 25th | May 16th & 30th | Jun 13st & 27th | Jul 11st & 25th | Aug 8th. All programmes on Saturdays. Note: Dates are subject to change.
Where: BGF Centre, D-G-2, Jalan PJU 1A/3K, Taipan 2, Ara Damansara, 47301 Petaling Jaya.
What you will get: Certificate endorsed by the principal facilitator will be awarded to all participants who successfully completed the 10 modules. Complimentary BBN & BGF Membership (2015) for all participants.
To register, contact: Sis Jacqueline Lim Tel: 017- 991 1089; Email: khanti696@gmail.com.
Websites: www.buddhistbusiness.com or www.bgf.org.my