Getting set for Wesak
by Yip Yoke Leng, The Star, 9 May 2017
Kuala Lumpur, Malaysia -- The weeks leading up to Wesak Day this year have been a grand display of volunteerism and compassion as thousands of Buddhists prepare for the occasion tomorrow to commemorate the birth, enlightenment and death of Buddha.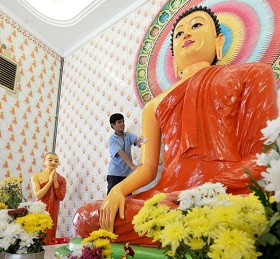 << Volunteers handled ushering, offerings, filling and distribution of holy water, arranging as well as lighting up oil lamps and promoting environmentally friendly prayers.
Many were seen spending their evenings after work and weekends at the temples, helping out with the preparations to ensure that the celebration involving huge crowds will proceed smoothly.
The Buddhist Maha Vihara temple in Brickfields was a hive of activity when StarMetro visited on Saturday as devotees were busy decorating the Buddha float as well as getting the premises ready for the various programmes arranged for Wesak Day tomorrow.
Like previous years, the highlight of the celebrations in Kuala Lumpur will be a 12km procession that will begin and end at the temple.
The procession will begin at 7.30pm and is expected to take four hours.
The theme for this year's celebration is "Religious Moderation Towards Social Harmony" and Joint Wesak Day Celebration Committee honorary secretary-general A. Hemadasa said: "That is what a multiracial society like Malaysia needs most now.
"The committee comprises 60 Buddhist organisations in Kuala Lumpur and Selangor.
"We all feel that religious understanding is crucial in a multiracial country, and the way to achieving that is to practise moderation.
"Everybody has different ways of thinking. We cannot and should not force others to think like we do, we must respect the differences, understand and accept each other to achieve social harmony," he said.
He added that the procession would feature about 25 floats accompanied by some 25,000 registered participants but more devotees are expected to show up at the last minute.
Hemadasa said there were about 2,000 volunteers in the past weeks, helping out with preparations at the temple.
They also helped in organising blood donation, alms-giving sessions and the temple's Caring and Sharing programme that distributed provisions to welfare homes.
This year, some adjustments were required as one of the main halls was closed for renovation but even though it was a little chaotic, the volunteers displayed good coordination among themselves.
Meanwhile, Tzu Chi Foundation Malaysia is mobilising more than 3,000 volunteers for its Wesak Day celebrations slated for May 13 and 14 to coincide with Mothers Day and Tzu Chi Day.
Event coordinator Choong Kah Meng said a total of 3,242 volunteers would converge on the foundation's Jing-Si Hall in Jalan Kepong at 7am on Sunday to creatively form the message of this year's Wesak celebrations.
He said the volunteers from across the Klang Valley had been practising for the formation at their respective communities three weeks prior to the day.
"The theme this year highlights that every seed has the potential to grow into a tree that benefits all, so does every human being.
"Each of us has the ability to contribute to the betterment of the world," he explained.
Choong said the celebrations this year would be spread over two days because last year's one-day programme which was attended by some 15,000 people was too tight.
To advocate filial piety, the organisation's Wesak Day programme has always included a chance for children to give their parents a simple foot bath at the hall.
This year, the venue is large enough to cater for 176 parent-child pairs at a time – there were only 80 last year.
Apart from a ceremony to touch scented water to symbolise touching the Buddha's feet in paying homage to the spiritual master, devotees will be bringing the Bamboo Bank back to the organisation and donations collected will be channelled to the Tzu Chi International School Fund.
A total of 5,000 Bamboo Banks were returned to the organisation last year.
Education is emphasised in this year's Wesak celebration and there will be a session for devotees to handwrite the Sutra of Filial Piety while a talk about the international school will be held on the sidelines.
Choong said some 1,000 volunteers were involved in organising the event and the time spent was proven fruitful.
"Getting involved in the preparations for Wesak Day does not affect my work as an IT personnel as I am only making better use of my free time, which in the days before I joined Tzu Chi, was spent chatting away at mamak stalls," he said with a smile.