?Coming clean? at Buddhist ceremony
By CHIN MUI YOON, The Star, June 10, 2005
Semenyih, Selangor (Malaysia) -- ONE of Malaysia?s biggest Buddhist spiritual fire and smoke offerings was held over the weekend at Nirvana Memorial Park in Semenyih, Selangor.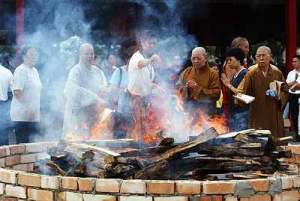 The unique Spiritual Bouquet ceremony was led by two high priests, Master Hai Tao and Master Chuan Xi, who were specially flown in from Taiwan to conduct the prayers and offerings alongside some 2,000 devotees.
NV Multi Corporation Bhd group managing director Datuk David Kong Hon Kong said it was an honour for the memorial park to hold the ceremony and play host to the priests.
?We have held fire and smoke offerings before, but the weekend ceremony was the biggest we have ever conducted,? he said.
The people presenting their offerings at the pits.
?Devotees also had a rare opportunity of having two illustrious high priests to lead the ceremony that benefits both the living and departed family and friends,?? said Kong. ?It is an unprecedented honour.??
The ceremony enabled the devotees to pay homage to the departed spirits by making offerings for them in the fire, similar to burning joss sticks. The act is believed to satisfy the hunger of the spirits so that they will not disturb the living.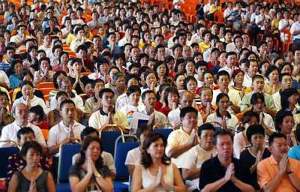 The devotees also have the ?holy smoke? cleanse their bodies from misfortunes.
For over two hours, the high priests expounded on the Buddhist faith and later led in chanting and prayers. Many devotees also lit candles to pay homage to the gods.
Offerings were also made at the three brick-lined pits that were piled high with burning wood. The devotees circled the pits as the smoke ?cleansed? them physically and spiritually.
?This ceremony is likened to planting seeds that can be reaped for 10 years,? said Master Hai Tao, who is held in high esteem within the Buddhist world.
The crowd came in droves to the ceremony.
He lectures in 70 Buddhist educational centres across Taiwan. He manages a Buddhist television station and regularly makes guest appearances on national television and radio stations.
Both masters have also published books and released audio teachings on Buddhism. They have also recently accepted an invitation to be special consultants at Nirvana Memorial Park.
For more information, call NV Multi Corporation Bhd at 03-2144 6699.